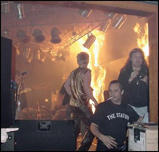 (Jointly Sponsored by the Standards Alumni Association)
Richard Gann
Fire Research Division
NIST Building & Fire Research Laboratory
Humankind's awe of fire predates civilization itself. Over the ensuing millions of years, the fires of concern, the combustibles, and the concepts of acceptable loss have evolved. However, the overarching societal striving for fire safety has persisted. For the last 105 years, the prime responsibility in the United States for the fire science to mitigate fire hazards has rested with the National Bureau of Standards, now the National Institute of Standards and Technology.  This presentation reviews the history of fire and key roles played by NBS/NIST staff in reducing fire losses in the 20th and 21st centuries, concluding with a look to the challenges ahead.
Anyone outside NIST wishing to attend must be sponsored by a NIST employee and receive a visitor badge. For more information, call Kum J. Ham at 301-975-4203.
Colloquia are videotaped and available in the NIST Research Library.