Art Benjamin
Math Department, Harvey Mudd College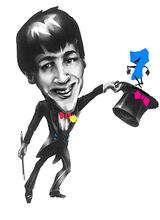 Dr. Benjamin is a professor of mathematics and a magician. He has combined his two loves to create a dynamic presentation called "Mathemagics," suitable for all audiences, where he demonstrates and explains his secrets for performing rapid mental calculations faster than a calculator. Reader's Digest calls him "America's Best Math Whiz." He has presented his high energy talk on over a thousand occasions to audiences throughout the world and has appeared on The Today Show and CNN.
Anyone outside NIST wishing to attend must be sponsored by a NIST employee and receive a visitor badge. For more information, call Kum J. Ham at 301-975-4203.
Colloquia are videotaped and available in the NIST Research Library.