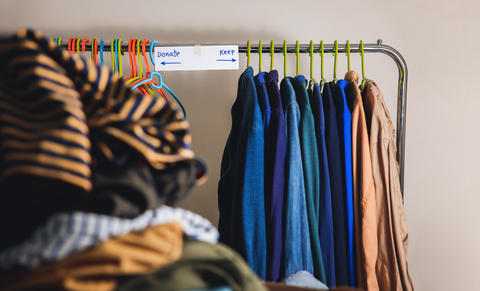 New NIST report identifies strategies for greater reuse and recycling of textiles.
Jump to a section
Introduction
A circular economy (CE) approach aims to extend the life of textile products through reuse and repair and keep end-of-life (EoL) materials in the economy through recycling. Transitioning to a CE is essential to preserving our natural resources, creating domestic and sustainable growth and jobs, and ensuring our Nation's security and economic prosperity. Textile production has increased dramatically over recent decades, particularly with the rise of "fast fashion". Simultaneously, increased production of synthetic fibers such as polyester and nylon due to their cost-efficiency and performance characteristics (e.g., stretch, durability, shrink resistance) has resulted in a large volume of synthetic fibers in textiles produced today. In the current linear economic model, textile products are made, used, and disposed of. In fact, it is estimated that in the U.S., a mere 15% of discarded clothing and textiles are collected for reuse, recycling, or downcycling, while the remainder is sent for landfill and incineration. This represents not only a tremendous loss of economic and material value, but also has significant social and environmental implications.
Key challenges facing the shift to a CE for textiles include:
Collection infrastructure: the infrastructure and systems for collecting waste textiles are not well established. What does exist is not consistent, convenient, or widespread enough to collect quality (clean, dry) textiles in the quantities needed to retain value.
Sorting and grading of textiles relies on expensive manual labor, even though it is not possible to visually identify fiber composition.  Fiber content labels may be missing or incorrect, and no harmonized sorting standards or criteria exist, creating more work for downstream markets for waste textiles.
Commercial-scale recycling processes for textiles are fiber-type dependent; require pure, reliable, high-volume feedstock; and generally cannot process mixed material inputs (fiber blends, which make up a large fraction of textile production). Separating blends and removing dyes, additives, and finishes (e.g., waterproofing, wrinkle-resistant coatings) often requires or generates hazardous substances that create another need for proper disposal. In addition, only limited recycling processes exist for certain fiber types.
Textile circularity is not economical in the current system. Large-scale reuse, repair, and recycling is hindered by high transportation, labor, and processing costs and decreasing quality and cost of new products.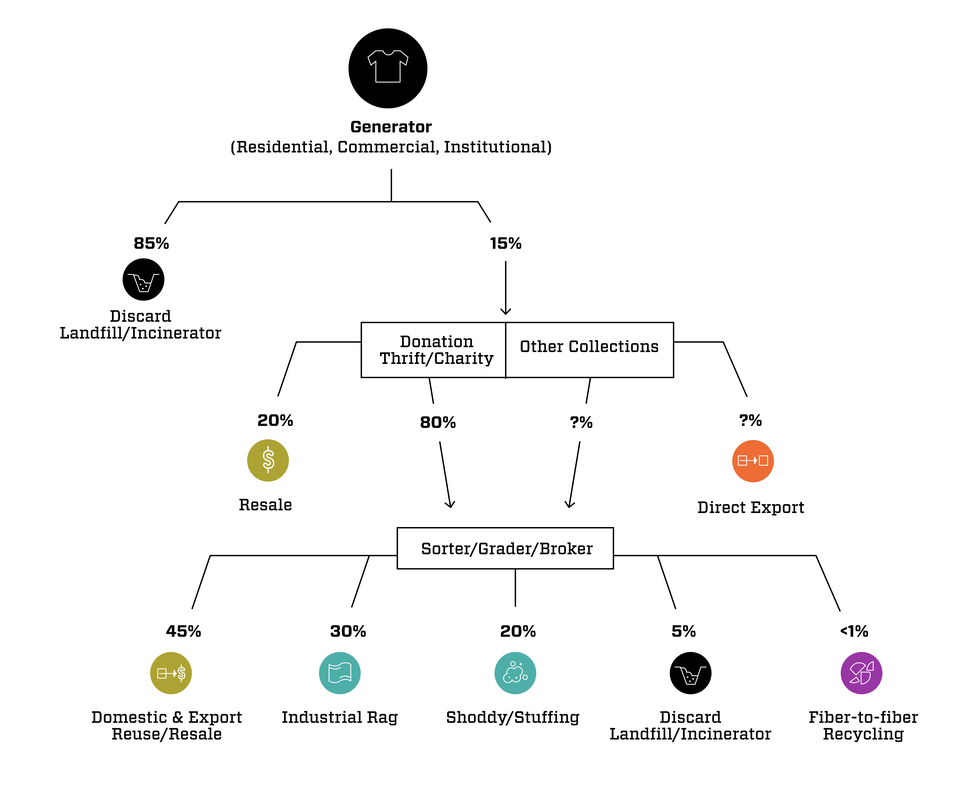 Contribution to a circular economy
Addressing these challenges and improving the sustainability and circularity of the textiles industry requires a harmonized, systems-level, collaborative approach. NIST has worked to take the first steps towards a circular economy for textiles by bringing together a wide range of stakeholders included in the textiles CE, both public and private, and across the social and technical disciplines through our recent workshop Facilitating a Circular Economy for Textiles, which is available as a recorded webinar, to discuss the challenge and opportunities in this space.
Our team