Materials used in industry need to be carefully evaluated to determine that the materials are suitable for their intended purpose as starting materials and feedstocks, and ultimately in the form of finished products that will be safe for use by consumers. The environmental and human toxicological impact of these materials in industrial and consumer products also needs to be considered. The Organic Chemical Metrology Group in the Chemical Sciences Division at NIST currently evaluates a range of industrially- and commercially-relevant materials and develops Standard Reference Materials (SRMs) to support measurements for both primary components and trace-level organic contaminants in such materials.
Current projects are described below.
Project Areas
Phthalates in PVC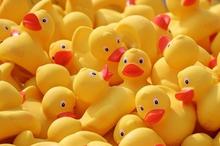 Although the toxicity of phthalates to humans is under study, there are concerns that phthalates could affect human development and reproduction. NIST developed SRM 2860 Phthalates in Polyvinyl Chloride to promote the use of safer materials in the manufacture of children's toys by supporting the improvement of analytical methods for phthalates in polyvinyl chloride (PVC). SRM 2860 is composed of a suite of three PVC materials containing 0%, 0.1%, and 2% mass fractions of six phthalates. NIST also offers SRM 3074 Phthalates in Methanol which is intended for use as a calibrant for the analysis of the six phthalates contained in the SRM, and can be employed as a standard for fortifying aqueous samples with known amounts of these phthalates.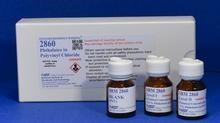 In October 2018, the Consumer Product Safety Commission (CPSC) revised its list of phthalates prohibited above 0.1% (by weight) in children's toys and child care articles to include eight phthalates. Today, interest in the measurement of phthalates has expanded beyond those performing environmental analysis to include measurement sectors that ensure food content and contact material quality as well as consumer product safety. Thus, a candidate SRM 3074a Phthalates in Acetonitrile is currently under development that will include those phthalates currently in SRM 3074 in addition to those on the CPSC restricted list.
For additional technical information, contact Bruce Benner, Jr.  (bruce.benner [at] nist.gov).
Starch and Cellulose in Corn Biomass Materials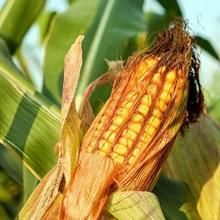 NIST is developing reference materials (RMs) to support the simultaneous conversion of starch and cellulosic content to ethanol from biomass. These RMs will help ethanol producers determine the amount of ethanol produced from the starch and cellulosic component of the feedstock to ensure that the correct renewable Identification Numbers (RINs) can be earned through the Renewable Fuel Standards (RFS) program.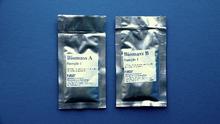 NIST has worked closely with both government and industry stakeholders in designing and developing fit-for-purpose RMs. The source materials for two candidate RMs consists of corn grain biomass intermediates before and after conversion (fermentation). Interlaboratory studies will be used to screen the candidate RMs. The first interlaboratory study for determining starch content in these dried corn grain biomass intermediates was conducted in the spring of 2019. Results of this interlaboratory study can be found at https://doi.org/10.6028/NIST.IR.8291. Future work includes an interlaboratory study to characterize cellulose in biomass intermediates. For additional technical information, contact Jacolin Murray (jacolin.murray [at] nist.gov).
Measurement Science of Per- and Polyfluoroalkyl Substances (PFAS)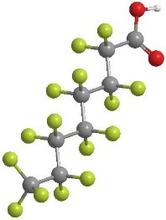 Researchers at NIST are creating reference materials and data resources to address the measurement needs of per- and polyfluoroalkyl substances (PFAS). PFAS are used in a number of industrial applications and are recognized as an emerging environmental contaminant. For additional information on current resources and projects on the measurement science of per- and polyfluoroalkyl substances (PFAS), contact Benjamin Place (benjamin.place [at] nist.gov).
Multidimensional Chromatography
Multidimensional chromatography is a powerful tool for the analysis of complex materials. Efforts at NIST are being directed toward the study of issues related to quantitation by both GCxGC and LCxLC, value assignment of complex matrix Standard Reference Materials (SRMs), and non-targeted analysis. For more information on multidimensional chromatography, contact Jacolin Murray (jacolin.murray [at] nist.gov).