Title of Talk: SECURE RANDOMNESS FROM THE FOUNDATIONS OF QUANTUM PHYSICS
ABSTRACT:
From dice to modern complex circuits, there have been many attempts to build increasingly better devices to generate random numbers. Today, randomness is fundamental to security and cryptographic systems, as well as safeguarding privacy. A key challenge with random number generators is that it is hard to ensure that their outputs are unpredictable. We find a solution to this problem in the foundations of quantum physics.  In this talk I will describe the connections between fundamental tests of quantum physics and secure randomness generation, including NIST's recent experiments using loophole-free tests of local realism to generate provably secure random numbers. 
Keywords: quantum information, quantum foundations, secure randomness, entanglement 
itl-speakers-bureau [at] nist.gov (subject: Speaker%20Request%20for%20Scott%20Glancy%20-%20SECURE%20RANDOMNESS%20FROM%20THE%20FOUNDATIONS%20OF%20QUANTUM%20PHYSICS) (Email Speaker Request)class="usa-button"
---
Title of Talk: TELEPORTED QUANTUM LOGIC WITH TRAPPED IONS
ABSTRACT:
We expect that quantum computers will be able to solve some mathematical problems faster than any classical digital computer. This is because quantum computers can exploit quantum superpositions and entanglement to execute algorithms that are impossible for classical computers. At NIST we are researching strategies for building quantum computers using trapped ions. In this talk I will introduce some basic ideas of quantum computation and describe NIST's recent progress in trapped-ion quantum computation including our use of quantum teleportation to apply quantum logic operations to separated ions. 
Keywords: quantum computation, trapped ions, teleportation 
---
BIO: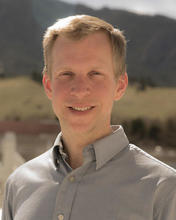 Scott Glancy grew up in Indiana and earned a PhD in physics from the University of Notre Dame.  Since then, he has worked for NIST in the Applied and Computational Mathematics Division.  His research interests are in quantum physics and quantum information theory.  He studies the statistical analysis of quantum measurements, the characterization of quantum computers, strategies for building quantum computers, and philosophical foundations of quantum mechanics.