Check the menu at left for upcoming events for the Department of Commerce Combined Federal Campaign. 
---
Pictures from CFC Events
CFC Googly Eye Contest Winner - December 18, 2019
The votes are in (from your lovely CFC keyworkers) and we have a winner for the CFC Googly Eye Contest! Although I am from Florida I know how to count votes. We had 44 unique entries and it was a lot of fun looking through the submissions. Remember, to be eligible, each entry had to be accompanied by a favorite charity or cause. Now for the prize: the winner will receive a highly coveted NIST SI logo graphic coffee cup. You can put things in it! It is your very own atom storage container. Use it wisely. And often. The cup may or may not come with some random goodies inside. I have attached a PDF of all of the entry photos if you are curious (please forgive my half-hazard arrangement). Thanks to everyone who took the time to participate and share their CFC cause!
The cause/charity that Lisa would like to share is the Fisher House Foundation (Code 11453): Fisher House Foundation builds comfort homes where military members' and veterans' families can stay free of charge, while a loved one is in the hospital. These homes are located at military and VA medical centers around the world. Fisher Houses have up to 21 suites, with private bedrooms and baths. Families share a common kitchen, laundry facilities, a warm dining room, and an inviting living room. Fisher House Foundation also operates the Hero Miles program, using donated frequent flyer miles to bring family members to the bedside of injured service members as well as the Hotels for Heroes program using donated hotel points to allow family members to stay at hotels near medical centers without charge. The Foundation also manages a grant program that supports other military charities and scholarship funds for military children, spouses, and children of fallen and disabled veterans.
---
Calk Talk IX: Cryptozoology - December 13, 2019
Cake Talk IX saw four fantastic cake talks.  Lucas Hale regaled us with scary cinematic tales of the Kraken, and with a lovely cake depicting a Kraken eating a boat.  Eric Cockayne presented us with a lovely yule log cake to accompany his groundbreaking pictures of the Lake Ontario Monster, nicknamed Gassie.  Jennifer Barrick produced a fantastical Snallygaster cake, complete with Frederick skyline, and told us the history of this creature's terrible reign over western Maryland.   Richard Wilkinson described the Cryptozoology Investigation Institute's latest findings, and delighted us with a pecan tart with a choco-Bigfoot on top.  Each of them showed the bravery, wit and creativity known only to Cake Talk Heros.
After the talks, we auctioned the cakes via pledge-bids – a harrowing experiment that kept everyone on the edges of our seats.  The auction raised commitments of $285 in donations to CFC causes including needy children, rescue animals and the environment.  In addition, the audience voted on their favorite cakes/talks with coupons earned by being there, asking questions, and telling Dad Jokes.
Using a hair-brained calculation that combined auction proceeds and the audience votes, we came to the following ranking.  Each of the contestants will receive minor prizes delivered lovingly through the campus mail.  Those trinkets pale in comparison to the Glory they earned, which will sustain them into infinity and beyond.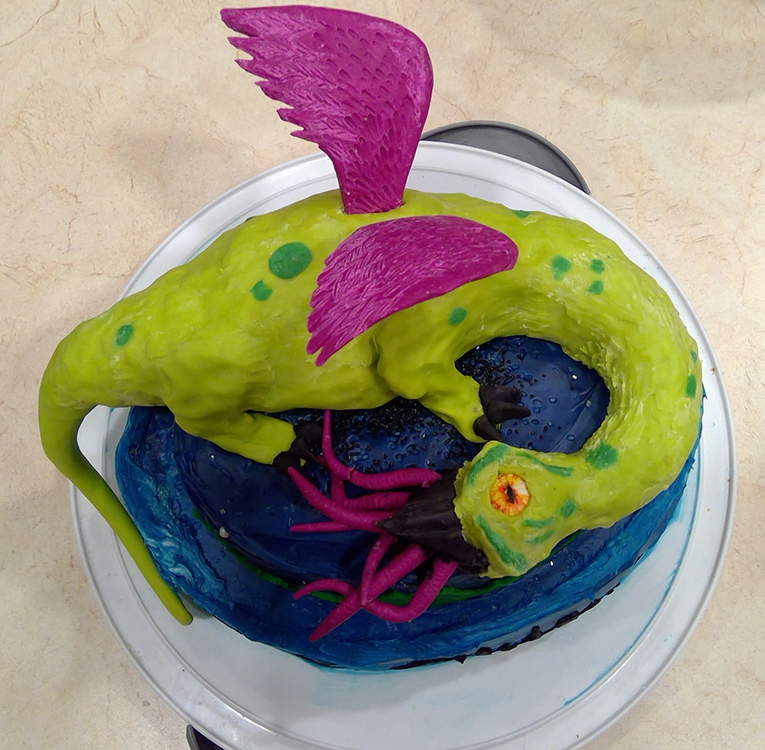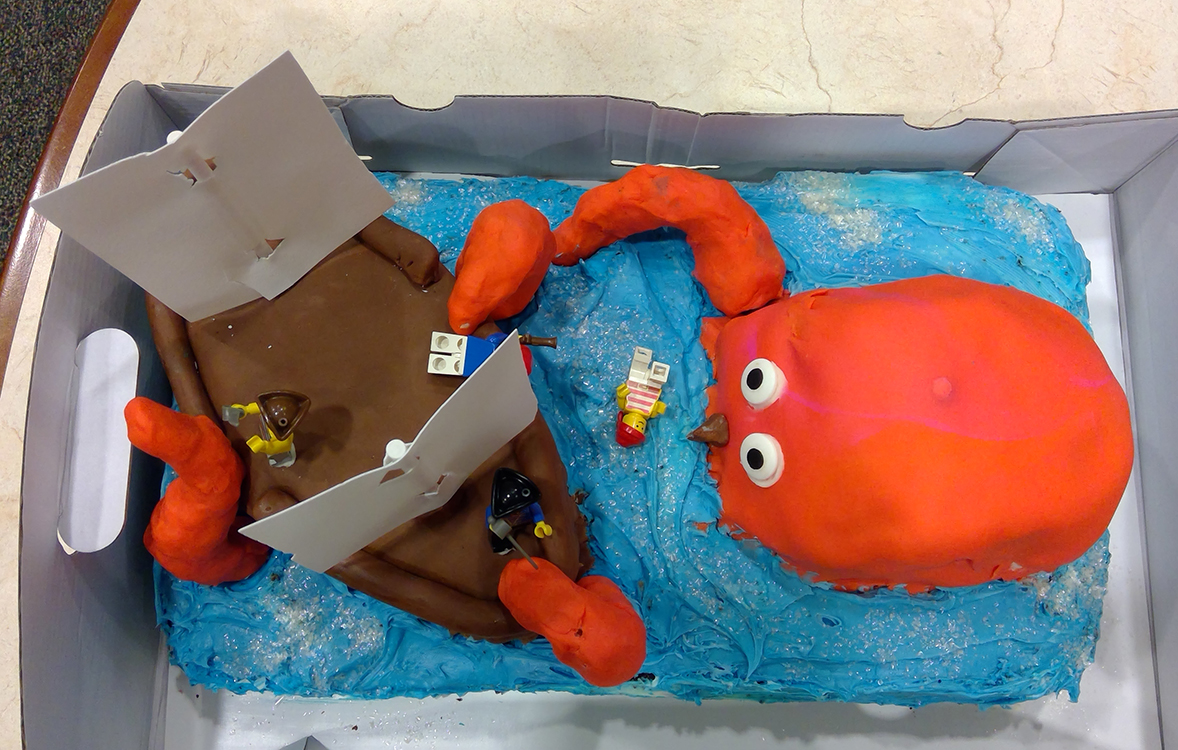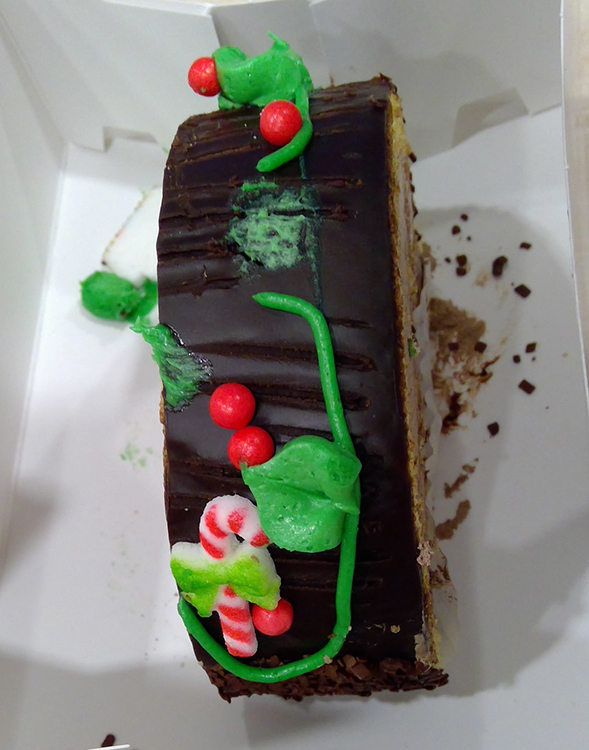 ---
Selfie with the Sphere at NOAA in Silver Spring, MD - December 4, 2019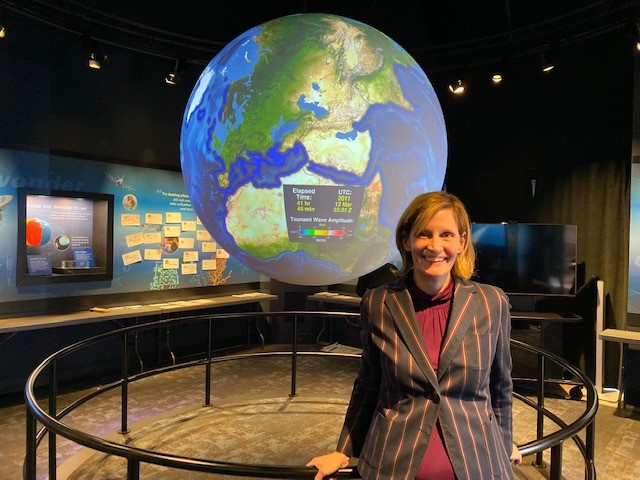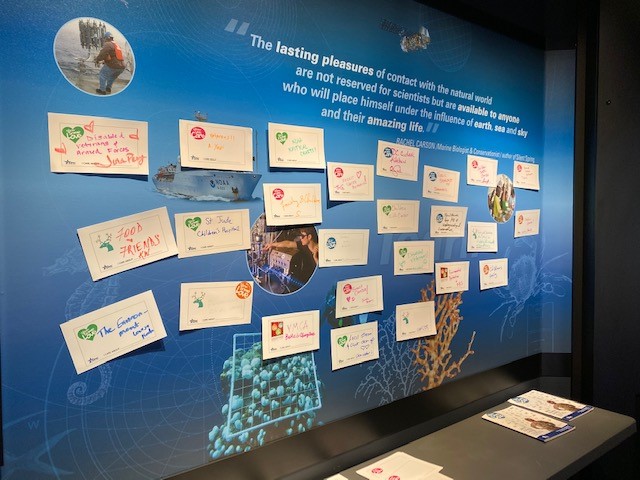 Census CFC Thanksgiving CANstruction Event - November 25, 2019