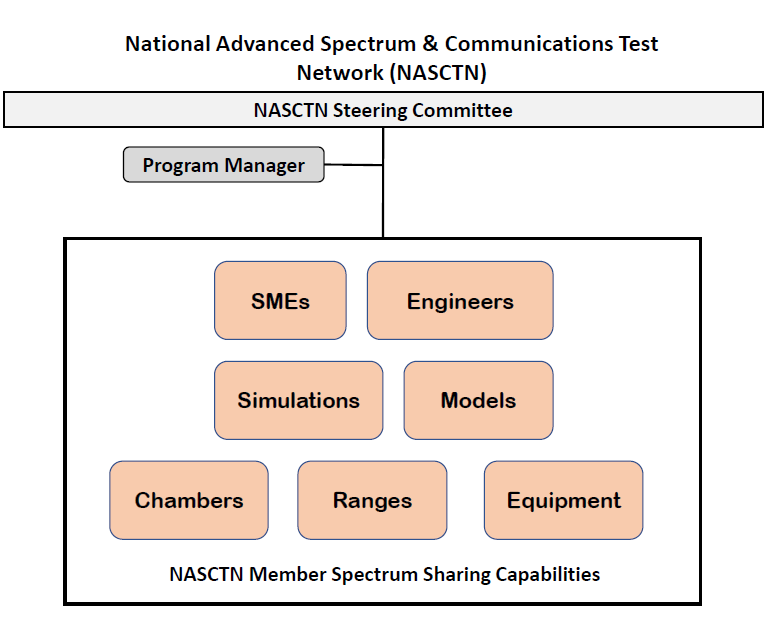 NASCTN Steering Committee Members
NAME
AFFILIATION
EMAIL
David Goldstein
DoD

david.goldstein.civ

[at]

mail.mil

William (Bill) Horne
NASA

william.horne

[at]

nasa.gov

Marla Dowell

NIST

marla.dowell

[at]

nist.gov

Ivan Navarro
NOAA

ivan.navarro

[at]

noaa.gov

John Chapin
NSF

jchapin

[at]

nsf.gov

Eric Nelson 
NTIA
The NASCTN Member Steering Committee provides guidance, approval, and governance for NASCTN activities.  Each Member representative serves as the primary point-of-contact for NASCTN to their home organization and is responsible for disseminating information regarding NASCTN projects and operations to interested stakeholders within the representative's organization.
NASCTN Core Team hosted by NIST
NAME
ROLE
AFFILIATION
EMAIL

Melissa Midzor

NASCTN Program Manager
NIST

melissa.midzor

[at]

nist.gov

Amanda Hyman
Administrative Officer / Division Office Manager
NIST

amanda.hyman

[at]

nist.gov

Duncan McGillivray
Chief Engineer
NIST

duncan.a.mcgillivray

[at]

nist.gov

Adam Wunderlich
Lead Data Scientist
NIST

adam.wunderlich

[at]

nist.gov

Keith Hartley 

Project Manager
NIST

Keith.hartley

[at]

nist.gov

Brandon Chamberlin
Network Engineer
NIST

brandon.chamberlin

[at]

nist.gov

Jack Sklar
Data Scientist

NIST Associate

jack.sklar

[at]

nist.gov

Keith Forsyth
Test Bench Engineer
NIST Associate

keith.forsyth

[at]

nist.gov

Joe Mruk

RF/Antennae Engineering

The MITRE Corp.

jmruk

[at]

mitre.org
Each NASCTN project leverages SMEs, engineers, and test resources from our multiple Member agencies.  In addition, a small dynamic and transdisciplinary Core Team, comprising of fundamental skill sets needed for all projects, is hosted at NIST to enable rapid start-up of projects and continuity of knowledge.