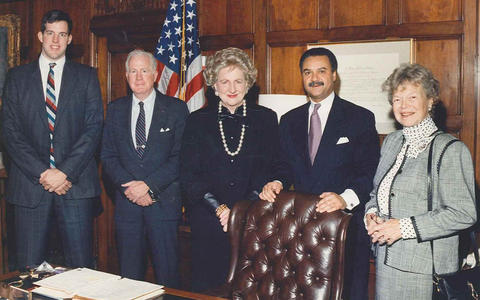 The NBS staff were extremely uneasy about direct fundraising, Reimann said; "We didn't think we should be trying to get people and companies interested in participating in the award process, but then ask them for money." Coursey said his first important job was to brainstorm how to establish the Baldrige Foundation. Based on leads received through friends in Federal service, he researched other foundations that provided funds to government programs, and he met with government lawyers and executives from private‐sector organizations, FPL and McDonnell Douglas Corp., who each assigned senior executives to the fundraising effort. Reimann said these two companies solicited other companies to form and contribute to a foundation. Eventually, with a push from Secretary Verity, the Foundation organizers and the Department of Commerce counsel came to an agreement. The Foundation for the Malcolm Baldrige National Quality Award became official through a signed agreement with the Department of Commerce on March 18, 1988, when it also became a 501(c)(3) charitable nonprofit corporation.
Sanford McDonnell, chairman emeritus of McDonnell Douglas Corp., served as the first Foundation Board of Director's president, and Hudiburg served as the Foundation's vice president; in a co‐ authored article, they wrote, "Since Secretary of Commerce Bill Verity invited us to organize the Foundation, we have had the opportunity to learn that the United States is ready to reassert its status as the quality leader of the world as a key weapon in America's arsenal in the international markets."19
Ten million dollars was raised in the first year, Reimann said; "It was exciting to see industry leaders so willing to support the quality effort. . . . But [NBS staff] did our best to stay hands off. We didn't even want to know who was contributing."
Reimann said that Baldrige family members— including Malcolm's brother Robert, who served as a director of the Foundation; sister Letitia; and wife Midge—have been extremely supportive. In fact, he said the involvement of the Baldrige family has been a constant source of inspiration for the Baldrige Award Program. Upon his retirement in 1995, the family gave Reimann a "truly special gift"—a belt and buckle Mac Baldrige had won in a rodeo contest.
 
---
19 McDonnell, Sanford and Hudiburg, John, "The Foundation for the Malcolm Baldrige National Quality Award," Business America: The Magazine of International Trade, U.S. Department of Commerce, May 9, 1988