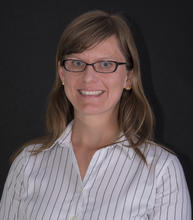 In 2016, Dr. Tara Lovestead, a Research Chemical Engineer in the Experimental Properties of Fluids Group, was selected to receive the 2013 Presidential Early Career Award for Scientists and Engineers (PECASE), the highest honor bestowed by the US government to recognize outstanding young researchers who will broadly advance science and the missions important to participating agencies. On May 4th, 2016, she was recognized by President Barack Obama, along with the other PECASE recipients, at the White House.
Lovestead was nominated for her extensive application of new methods to simply and inexpensively detect trace levels of chemicals in vapors, enabling revolutionary advances in homeland security, forensics, and food safety. Her research focuses chiefly on "headspace analysis," in which one monitors chemicals released into the surrounding atmosphere from a solid or liquid as the material breaks down or decays. Traditionally, tedious, expensive methods are used to extract chemicals from these samples, because the concentration of decay products is too small for standoff detection. However, Lovestead has developed and applied new methods that have greatly improved sample collection efficiency, enabling her to detect target materials that constitute as little as 0.0000002 percent of a sample.
As a PECASE honoree, Dr. Lovestead will receive funding for up to 5 years to advance her research.
The official White House announcement can be read here: https://obamawhitehouse.archives.gov/the-press-office/2016/02/18/president-obama-honors-extraordinary-early-career-scientists