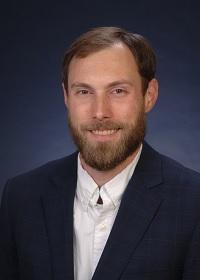 A. J. Fleisher's work has led to advances in optical measurements of isotopic composition, including stable carbon isotope ratios and radiocarbon abundances in carbon dioxide (CO2). Their innovative approaches have opened new avenues for exploration in perpetual, artifact-free scales for greenhouse gas source apportionment. Further achievements include developments in electro-optic frequency combs and high-resolution spectrometers for rapid frequency-comb based detection of molecules.
In addition to their research, A. J. Fleisher has been an active member of the scientific community, mentoring guest researchers, postdocs, and students and participating in outreach efforts within professional societies to inspire the next generation of scientists.
The Peter Werle Award was announced at Field Laser Applications in Industry and Research (FLAIR) 2022 by a fellow former NIST NRC Postdoc and previous award winner Dr. Greg Rieker of the University of Colorado, Boulder. For more details, click here:  https://flair2022.sciencesconf.org/resource/page/id/11.