A crucial principle, for both humans and machines, is to avoid bias in order to prevent discrimination. It is critical that AI systems are trained with data that is unbiased and using algorithms that can be explained. The purpose of this project is to understand, examine, and mitigate bias in AI systems.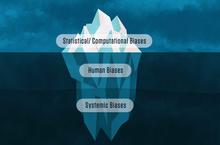 NIST releases Towards a Standard for Identifying and Managing Bias in Artificial Intelligence
(3/16/2022)
Past Activities
NIST Proposes Approach for Reducing Risk of Bias in Artificial Intelligence (News Release 6/22/2021)
BIAS IN AI WORKSHOP  was held August 18, 2020
NIST hosted a virtual workshop on August 18, 2020, to develop a shared understanding of bias in AI, what it is, and how to measure it.
Contact Information: ai-bias [at] list.nist.gov