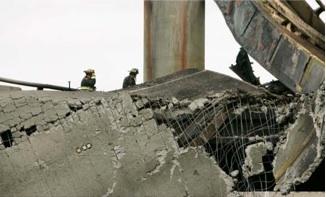 We are developing a new technology to detect and quantify the extent of corrosion in embedded rebar using Terahertz (THz) and microwave spectroscopies. This new method will exploit the likelihood that a number of iron corrosion products are antiferromagnetic and absorb THz and microwave radiation. In this program, we will analyze the THz and microwave absorption of various corrosion products, identify the phases that provide the most useful response, and determine the most credible approaches for this technology to be implemented. This effort can be classified as a non-destructive evaluation technology, but using spectroscopy rather than just ordinary imaging. 
Two of the most common iron oxides that form during corrosion are antiferromagnetic, hematite and goethite. The absorption of THz and microwaves is different in these antiferromagnetic oxide materials than in the ferromagnetic iron precursor. In an antiferromagnetic material, no externally applied magnetic field is required for THz or microwave absorption due to resonating spins and the resonant frequency can be as high as 120 GHz or larger. Small stray magnetic fields, present in any environment, will give the iron a resonant frequency (FMR), but it will be far smaller. The great difference in resonant frequencies offers the possibility that small quantities of hematite or goethite could be detected in the presence of iron. 
Challenge 1: Determine the absorption spectrum of corrosion products in the THz and microwave ranges.   
Challenge 2: In the case of rebar in concrete, both the iron and its corrosion products will typically lie centimeters below the surface of the concrete. The attenuation of THz and microwaves by the concrete is a concern.