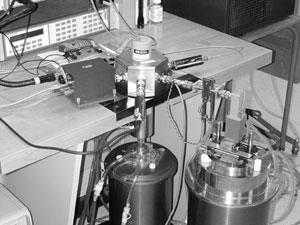 Customer Needs
Noise is a crucial consideration in designing or assessing the performance of virtually any electronic device or system that involves detection or processing of a signal. This includes communications systems, such as cellular phones and home entertainment systems, as well as systems with internal signal detection and processing, such as guidance and tracking systems or electronic test equipment. The global market for microwave and millimeter wave devices in these areas is huge and will grow larger. Important trends requiring support include the utilization of higher frequencies, the growing importance of low-noise amplifiers and transistors, and the perpetual quest for faster, less expensive measurements. The two most important noise-related technical parameters requested by industry are the noise temperature of a one-port source and the noise figure of an amplifier.
Noise power is also the quantity that is measured in passive remote sensing, such as that used to measure properties of the earth's surface from satellites or airplanes. The growing importance of such measurements for climate monitoring, weather forecasting, agriculture, and other applications has highlighted the need for better calibration techniques, smaller uncertainties, and compatibility between results from different instruments.
Technical Strategy
We are working in three general areas: traditional noise-temperature measurements, characterization of amplifier and transistor noise properties, and calibration of remote-sensing radiometers. In traditional noise-temperature measurements, we offer measurement services at 30 and 60 megahertz and from 1 to 40 gigahertz for coaxial sources, and from 8.2 gigahertz to 65 gigahertz for waveguide sources. Recent improvements have reduced the time required for these measurements, thereby reducing the costs to our customers.
The second general thrust of the project is in amplifier and transistor noise-parameter measurements. The long-term goals in this area are to improve techniques for measurement of noise parameters of low-noise amplifiers and transistors, to develop measurement capability for noise parameters of amplifiers with coaxial connectors from 1 to 12 gigahertz, and to provide a mechanism for industry to access this capability, either through measurement comparisons or a measurement service.
A new thrust of the project is in improving methods for calibration and validation of microwave radiometers used for remote sensing from satellite or airplane. The central element of this effort will be the development of microwave brightness-temperature standards, comprising both standard radiometers and standard calibration targets. The standard radiometers will be used to measure customer calibration targets at NIST, and the standard calibration targets will be used in measurements at outside facilities, as well as for comparison measurements with the NIST standard radiometer.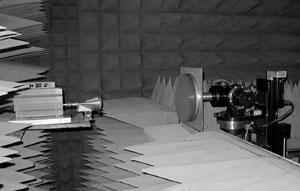 Our goals for this coming year are to measure the noise parameters of a low-noise amplifier for an interlaboratory comparison with NPL, measure the noise parameters of a cryogenic amplifier belonging to the Terahertz Project, and measure noise parameters of ultra-large-scale integration (ULSI) devices on wafer for comparison to IBM and RFMD. We intend to study the uncertainties in onwafer measurements of noise parameters; design a temperature-controlled, shielded, anechoic chamber for standard radiometer(s); use the Physics Laboratory's infrared (IR) imaging system to study thermal gradients in a calibration target used for microwave remote sensing; and continue to provide noise-temperature measurement services.



Collaborations:
   • Warsaw University of Technology (W. Wiatr), on-wafer noise-parameter measurements
   • IBM and RFMicroDevices (Kelvin Project), noise parameters of ULSI devices
   • National Polar-orbiting Operational Environmental Satellite System (NPOESS), ATMS Calibration and Validation Working Group
   • NOAA Environmental Technology Laboratory (A. Gasiewski and M. Klein), calibration target characterization
   • NASA Microwave Instrument Technology Branch (P. Racette, J. Piepmeier), calibration target characterization
   • Physics Laboratory (J. Rice, C. Johnson), radiometer calibration and validation and target characterization
   • Information Technology Laboratory (K. Coakley, J. Splett), nonlinear modeling of tunnel diode detectors

Standards and Technical Committee Participation:
   • Consultative Committee on Electricity and Magnetism (CCEM), Working Group on Radio Frequencies, Chairman
   • IEEE Microwave Theory and Techniques Society, Technical Committee on Microwave Low-Noise Techniques, TC-14
   • IEEE Geoscience and Remote Sensing Society Technical Committee on Instrumentation and Future Technologies
   • IEEE Geoscience and Remote Sensing Society liaison to IEEE Standards Board
   • CEOS Working Group on Calibration and Validation, Microwave Sensors Subgroup, Standard Terminology compilation (Chapters I and II)