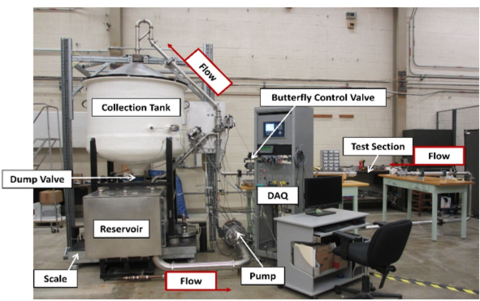 The Fluid Metrology Group is using NIST's 15 kg/s Liquid Flow Standard (LFS) [1] (Fig. 1) and data from the NIST cryogenic flow facility (decommissioned in 2020) [2] to better understand how coriolis meters are affected by the liquid and environment temperatures. The NIST water flow standard is a closed-loop, dynamic liquid flow calibration facility that is fully automated. Calibrations can be performed in the water flow facility at ambient temperatures or in a custom-built insulated chamber (Fig. 2) that allows the meter environmental temperature to be controlled between 10 °C and 50 °C. The major components of the LFS include: 1) the flow generation and control system consisting of a variable flow pump, reservoir tank, check standard flow meter, butterfly valve, and data acquisition system with digital proportional-integral-derivative (PID) controller; 2) a test section that accommodates a meter under test with pipe diameter ranging from 1.25 cm to 5 cm; and 3) the dynamic weighing system comprised of a collection tank and weigh scale.
In Progress
NIST has developed a physical model based on Young's modulus and Poisson's ratio to hypothesize a correction factor for how Coriolis meters will behave at cryogenic temperatures (Fig. 3) [3]. As a first step, we tested our model over the narrow liquid temperature range of 285 K to 318 K. The temperature dependence predicted by the model agrees with experimental data within ± 0.08 %. The model uncertainty is 0.16 % (95 % confidence level) over this temperature range. We are currently analyzing data from several coriolis meters at liquid nitrogen (LN2) temperatures (≈ 77 K) to further validate our model. Figure 4 shows a coriolis meter installed in the cryogenic flow facility.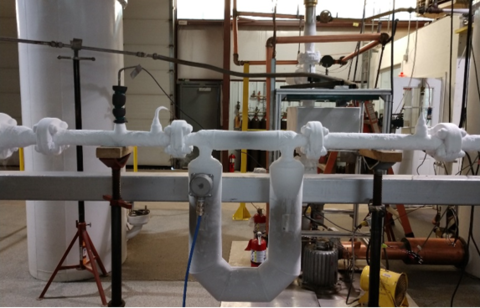 Future Goals
Presently, various liquid temperatures are achieved in the 15 kg/s LFS by initially cooling the water in the reservoir and then heating it over time by the mechanical action of the pump (no active control). A future goal is to add a heater / chiller to actively control the temperature of the water in the flow standard to temperatures between 10 °C and 40 °C. This will facilitate research on temperature effects on many meter types and reduce repeatability errors due to the water temperature varying during a calibration or test.