The body-armor community generally bases armor design on empirical models that do not directly relate molecular properties to performance.  Aramid, aramid copolymers, and polyethylene fibers are highly oriented, anisotropic fibers that require specialized characterization techniques.  In addition, there has historically been limited publicly available data on degradation mechanisms in these materials.  Fundamental understanding of the impact of material properties on short and long-term material performance is limited by this lack of available data.  Also, interacting factors (e.g., kink band formation) have not been considered in the context of broader performance degradation.
The STG conducts and performs fundamental research to advance the understanding of these high-strength materials, which can be challenging to study.   The goal of this work is to enhance the body armor community's understanding of the relationship between properties and performance in high performance materials used in protective applications.  This work falls under three primary project areas which include elucidating mechanisms of ageing of high strength fibers and their impact on material properties, the development of novel measurement tools and procedures to examine structure-property relationships in high strength materials, and the advancement of understanding in the links between quasi-static material properties and ballistic performance.
Elucidating mechanisms of ageing of high strength fibers and their impact on material properties has been a major focus area of this project in recent years. Many different forms of high strength materials, including fibers, yarns, tapes, and unidirectional laminates are being studied through carefully controlled artificial aging experiments to understand the effects of elevated temperature and humidity on these materials (Figure 2). Aramids, copolymer aramids, and ultrahigh molar mass polyethylene are all studied through this program. In addition to extensive publications in recent years (see below) we have also focused on archiving material properties data to assist others within the community (see data publications below).
An overall goal of our work is to advance the understanding of links between quasi-static material properties and ballistic performance. Using established theoretical models, we predict the reductions in ballistic performance that can be expected with aging (Figure 3). A forthcoming publication (currently in press) will compare these predictions with experimental ballistic properties measurements for aged and unaged materials, as shown in Figure 4. While these established models work well for linear elastic materials, they do not correctly predict ballistic properties or nonlinear elastic materials. Examining this phenomenon and proposing modifications to these models will be a major focus of our work in coming years, since nonlinear elastic materials are becoming more commonly used in protective applications.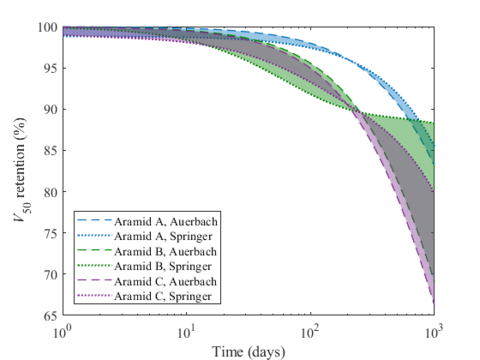 Novel measurement tools and procedures for high strength materials are necessary to study these materials, which can present unique challenges in mounting, gripping, and other aspects of mechanical testing. We strive to share our efforts to develop robust characterization methods by publishing papers and videos to fully describe our experimental techniques, grip designs, and instrumentation development and by participating in relevant standards bodies to further disseminate our efforts in this area to the high strength material community.