Many Indo-European languages utilize a limited set of highly reused, non-synonymous, short semantically relevant words called roots that can be combined to facilitate the building of new compounded terms such as peanut butter and watch dog. This approach, which is more prominent in certain languages such as Sanskrit, Latin, and German permits the creation of terms on-demand as well as the replacement of a root in an existing term by one or more other roots to create a new, related term. As illustrated in the figure below, the proposed MGI terminology makes use of these root and term concepts to generate terms on-demand in order to establish a common and evolving vocabulary that is based on use cases and related to developing ontologies.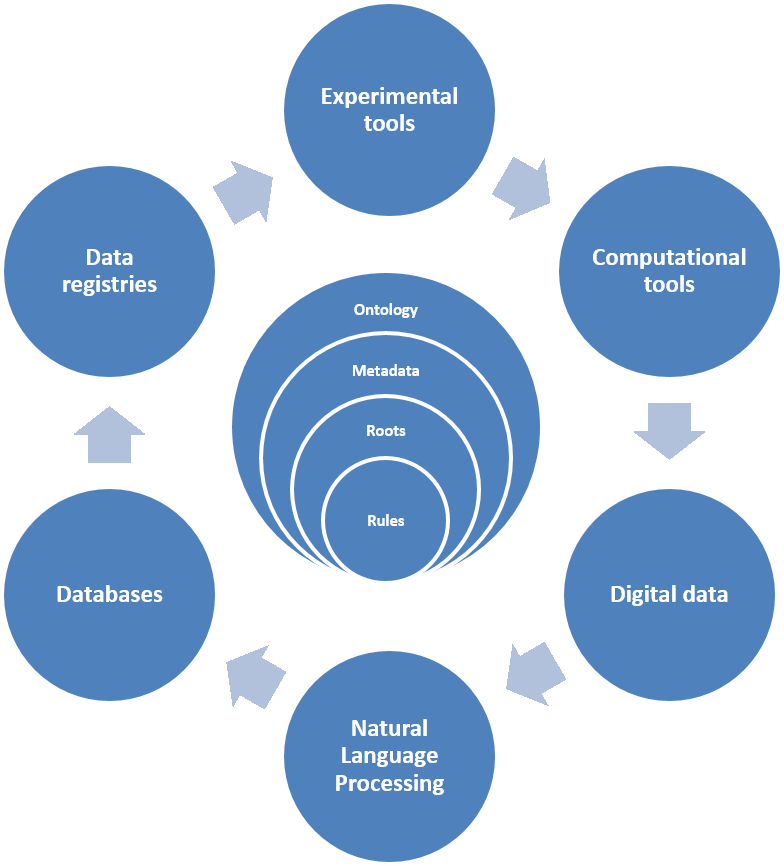 Selected rules with examples:
Choose frequently used short words as roots such as crystal.

Keep 'roots' in singular form such as property instead of properties.

Avoid including special characters (such as "'", ':','_','-','=') in a root such as Xray instead of X-Ray.

Avoid the use of superfluous words, including stop words such as 'of', 'with' etc, in a term such as vaporization heat instead of heat of vaporization.

Concatenate 'roots' by a hyphen (-) to form a term such as Crystal-structure.

Create reasonably discriminating terms. If needed add additional 'roots' to a term to increase its discriminating power such as Spectroscopy-XPS instead of XPS.
Examples of rule-based terms:
General example: Watch dog
A dog with a particular purpose to watch as opposed to a show dog or a hunting dog.
Compounding two roots, watch and dog, creates a new term with meaning related to the qualified root, dog and the qualifying root, watch.
Materials science example: Crystal-structure-FCC-Be-diffusion
FCC class of structure of crystal (crystal structure) has a diffusion of Be (Be diffusion) at a rate of. . .
Compounding five roots, Crystal-structure with FCC and Be diffusion, creates a new term with meaning related to the qualified roots and the qualifying root, crystal structure.