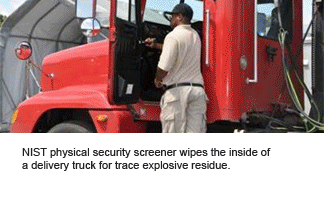 The NIST Test Bed, a collaboration between the NIST MML's Surface and Trace Chemical Analysis and the NIST Emergency Services Division, allows MML researchers to work directly with active security personnel to optimize entry point screening technologies and procedures. 

One of the most critical steps in the successful detection of contraband is a screener's ability to collect microscopic particles from a suspect surface and efficiently transport them to a detector for analysis. This process is often limited not by the detection technology as one might think, but rather by the training received by the screener. It has been observed that when a security guard at a checkpoint understands how trace detection technology works, they are better equipped to offer insightful suggestions regarding equipment requirements, and ultimately reduce human error when using the instrument. NIST researchers apply this philosophy by hosting screeners in the lab to learn more about the equipment. For example, NIST physical security officers practice swiping components from the interior of a car containing simulated trace residues that are visible under black light. This provides the screeners real-world feedback on optimal vehicle locations for sampling trace residues. In other instances, MML researchers use a variety of high-tech tools such as high-speed video, infrared imaging and force sensitive resistors to demonstrate to the screeners how to effectively swipe a surface to collect trace contraband residue. 

Operational homeland security challenges require cutting edge fundamental research and technology development that can translate into practical applications. NIST is working on two prototype contraband sampling systems – an identification card scanner and a hand held sampling wand. The automated scanner is being designed to both recognize counterfeit ID cards and detect suspect residues deposited on the surface, with the ultimate goal of improving sample throughput at screening checkpoints. Researchers also recognize from laboratory studies that it is difficult to apply a consistent force using a hand held sampling wand. To address this issue, MML researchers are working to develop a wand containing an integrated force sensor that provides security screeners with real-time feedback on the optimal applied force required for effective collection.

Personnel from Federal agencies such as Bureau of Prisons and Federal Protective Services have recently adopted the use of NIST test materials developed in collaboration with the Test Bed, to calibrate their instruments and validate performance to their specifications. Through practical experience from the NIST Test Bed, MML researchers can now aid organizations in customizing their detection systems for optimal performance based on user-defined detection requirements.

NIST researchers have also recently begun using the Test Bed to experiment with next-generation detection technologies such as mass-spectrometry. These new detectors potentially offer a higher degree of selectivity and better sensitivity than existing systems.

The expansion of the NIST Test Bed to include other agencies through the increased use of robust test materials and further development of operational procedures will improve the capabilities of trace contraband detection technologies. This crosscutting program brings together expertise from NIST's technical and operational elements to help the broader law enforcement and Federal community have greater confidence and ability to detect explosives and narcotics. The team welcomes the opportunity to assist new customers with the optimization and validation of their explosive and narcotic detection equipment as well as the opportunity to gain insight to their needs and measurement requirements for next-generation detection technologies.