We have implemented a numerical solution scheme to solve these equations and are examining the predictions. Four coupled partial differential equations comprise the model: a mass balance equation, a modified Navier-Stokes equation for the velocity of the matter in the various phases, a modified diffusion equation for the concentration field, and an equation to treat the dynamics of the solid-fluid interface (phase field). Solving this system of coupled equations accurately with appropriate parameters requires sophisticated numerical solution techniques and long simulation times. Our approach thus far has yielded a complete solution of the equations in two dimensions with a slightly nonrealistic parameter set to enable the solution of the equations in a practical time frame. To date we have been able to develop:
1. Methods that suppress unphysical surface flows
2. Relationships between thermodynamic parameters and equilibrium surface energies/contact angles
3. A numerical algorithm that enables large physical parameter differences between phases
4. Methods that stabilize simulations of compressible flow.
The first test of the model will be a comparison to simple experiment in a metallurgical context. One such experiment is the spreading of a liquid metal droplet of tin on a bismuth substrate. Here wetting is accompanied by dissolution of the substrate so that the triple junction motion is governed by solute diffusion as well as capillary processes.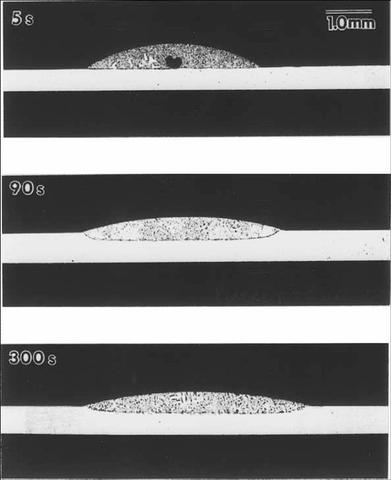 A reactive wetting experiment of liquid Bi-20 wt%Sn spreading on solid Bi.
To date, we cannot match the physical parameters of this experiment in a reasonable computation time, and considerable effort is being devoted to improving our solution methods. However below are shown two time slices from a calculation of the change in shape, composition and accompanying fluid flow pattern when the temperature of a droplet is reduced. The first slice shows the droplet at equilibrium for the high temperature (shown by the black lines). The droplet contracts and dissolves the substrate at a later time and lower temperature. These results show promise for the approach.
 

Numerical results obtained for
spreading of a liquid droplet.
 Initial state.

 

Numerical results obtained for
spreading of a liquid droplet.
Final state.