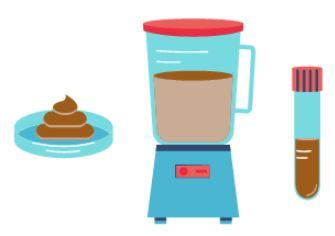 On behalf of the Biosystems and Biomaterials and Chemical Sciences Divisions at the National Institute of Standards and Technology (NIST), we would like to thank you for your interest in our new Gut Microbiome Metabolomics Program. As part of the larger NIST Microbiome Program, this metabolomics interlaboratory exercise is being developed to help obtain consensus characterization of human whole stool materials and assess measurement variability within the metabolomics community. The specific objectives of this exercise are: 
Identify metabolites in human whole stool using analytical platforms of your choice 

Assess vegan pooled whole stool and omnivore pooled whole stool to assess fold change metabolite differences in different diet types 

Evaluate metabolite differences in aqueous and lyophilized storage of whole stool samples 
Participation in this gut microbiome program will also inform NIST about the measurement capabilities within the gut microbiome metabolomics communities and assist in the design and characterization of future whole stool reference materials. 

Each participant will receive four different whole stool samples in triplicate (for a total of 12 samples). Samples are from donors either on a vegan diet or omnivore diet (self-identified). Each of the samples is stored at -80 °C and is either lyophilized or aqueous.  

In addition, participants will also be asked to identify the type of sample preparation and analytical methods employed in their testing to facilitate conclusions about potential method bias. All results from interlaboratory studies are peer-reviewed and made publicly available as published NIST Internal Reports (IRs). 
 
This exercise will be free of charge to laboratories. The identity of participants will be kept confidential unless a laboratory elects to include their name on the public list of participants. 
 
If you have any suggestions or questions regarding this exercise please email your request to our team at NISTool [at] nist.gov. Registration for this exercise can be found at https://forms.gle/8DwaLKmTucCsy4SB9.  
 
We look forward to your participation in this and future exercises. Please forward this message to any of your contacts that may be interested in participating.