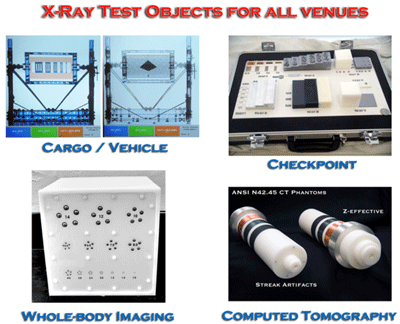 This work fills well-documented gaps in transportation security, which have been highlighted in Executive and Legislative requirements for 100 % screening of baggage, cargo, and airline passengers. This is accomplished through a corpus of new standards, test methods, test artifacts, dosimetry protocols and technical guidance documents, supported by an infrastructure of metrology and computational modeling.
Due to the ease of assembly and leveraged disruptive effect, the improvised explosive device (IED) is the method of choice of today's terrorist including all of the hundreds of individuals indicted or convicted in terrorism cases in the United States since 9/11. In response, governments have invested enormous sums of money for security screening for bulk explosives. This project helps ensure the quality and effectiveness of this investment by providing the standard guidance and measurement tools needed to gauge the technical performance of these systems.
The goals of this project are to:
[1] Develop national standards for image quality and radiation safety for checkpoint, cargo, vehicle, and whole-body x-ray and gamma-ray security-screening equipment, leading to improved threat detection for homeland-security applications,
[2] Produce the associated testing and evaluation protocols,
[3] Validate and Revise these national standards in light of enhanced technical countermeasures, merging modalities, emerging threats, and feedback from field use/T&E,
[4] Provide the basis for uniform and informed technical grant and procurement guidance across the agencies of DHS,
[5] Harmonize national standards with conflicting or inadequate international standards that impact our homeland, and
[6] Realize the adoption and use of the deliverables of this project by key governmental stakeholders and industrial partners.
Current documentary standards portfolio: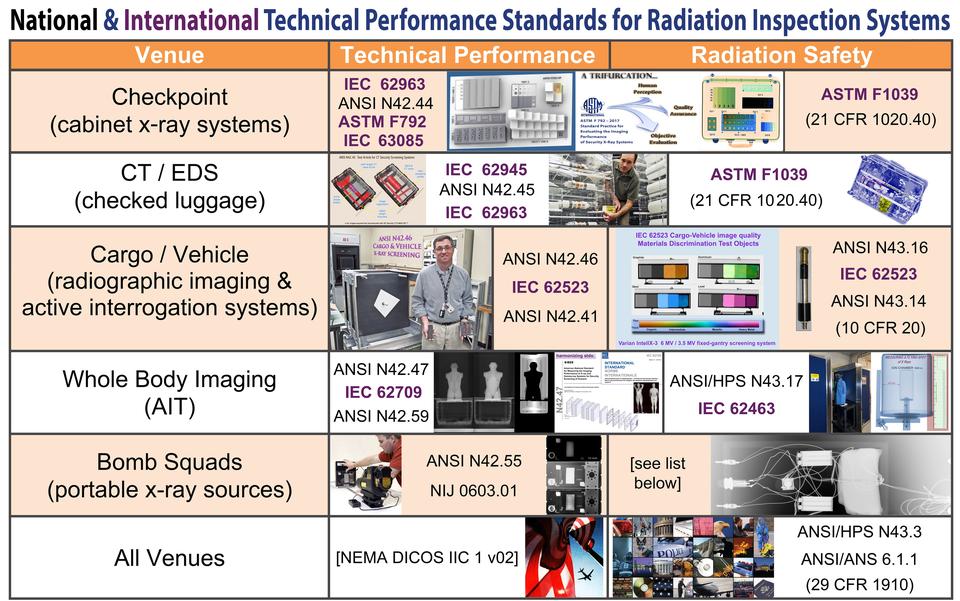 For the economic impacts and security benefits of this project, click these links:
[economic impacts] A Case Study: The Economic Benefits of NIST's Role in Security Standards Development: X-Ray Standards for Bulk-Explosives Detection, NIST GCR 12-967 (Grant/Contractor Report), 2012
A Measure of Domestic Security: Economic Benefits of NIST's Support of Public Safety and Security, NIST GCR 15-917-37 (Grant/Contractor Report), 2015
[security benefits] The Case for Technical-Performance Standards for Radiation Inspection Systems, Larry Hudson, Journal of Testing and Evaluation 46 (2018) pp. 8-16, https://doi.org/10.1520/JTE20170329