Essential to the development of a new class of γ/γ′ Co-based superalloys is the stability of the γ  precipitate, which is the primary strengthening mechanism for this alloy.  Within the literature there are several conflicting reports on the stability of the γphase in the Co-Al-W system at the operating temperatures of interest. To correctly describe the multicomponent thermodynamics for this system, the stability and composition range for this phase needs to be determined. A series of ternary compositions were produced, heat treated, and characterized using a variety techniques to assess the stability and homogeneity range of the γ´phase. The figure below shows for the Co-0.097Al-0.108W mole fraction composition.  
The desirable γ/γ′ microstructure is achieved after heat treating at 1350 ˚C for 2 h with a water quench and then aging at 900 ˚C for 1006 h followed by a water quench. X-ray diffraction measurements were used to determine the volume fraction of the γ′ present in the microstructure. As the average γ´ precipitate width is less than 1 mm, atom probe tomography (ATP) is used measure the composition of the γ´ phase. This characterization method is also able to measure the composition profile across the γ/γ´ interface. As shown below the reconstruction of two γ/γ´ interfaces and the composition profiles at the two identified interfaces. Using these characterization techniques on a series of Co-Al-W compositions the tie-line in the γ+γ´phase region was established at 900 ˚C.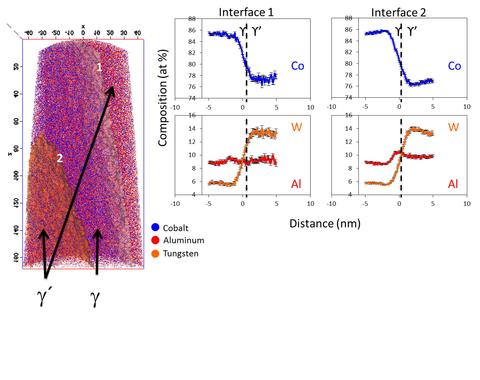 This experimental information was then compared to current CALPHAD thermodynamic assessment predictions. This new experimental information will be used to improve the composition and temperature dependent thermodynamic Gibbs energy functions used by CALPHAD. The experimental information, with additional input from first principle calculations, is being used to develop composition and temperature dependent molar volume and diffusion mobility descriptions.  In conjunction with the thermodynamic descriptions, the diffusion mobility and molar volume descriptions will be used as inputs into computational tools that model and optimize the microstructure evolution of the γ' precipitation.  
In May 2012, the first NIST γ/γ´ Co-base superalloy workshop was held to coordinate and discuss international research efforts in this area. The 18 outside participants from industry, academia, and other government laboratories, attended the one-day workshop. Participants discussed current experimental work, how to incorporate it into current CALPHAD assessments, and what additional experimental work is needed.