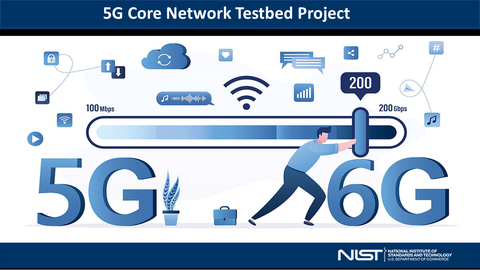 This project, as part of our 6G Core and Edge Networks and Services Project, is building a 5G/6G Core Network Testbed— which we refer to as OpenCoreNet—to support research on sixth generation (6G) networks and to explore how 6G can best improve industry applications.
OpenCoreNet focuses on core networks, edge networks, and end-to-end services and applications. We focus on layer-3 and above protocols together with the related computing and artificial intelligence (AI) capabilities.
OpenCoreNet is being designed with standard interfaces to connect to 5G (and later 6G) access networks not just in our lab but also across NIST and other US government agencies to support applications of NIST and national priorities. Currently, we are focusing on two application domains: 1) vehicle teleoperation and 2) industrial control.
We are working with international partners, including South Korea government agencies (KIAT, ETRI, and KATECH) and several US and South Korean universities and companies, to federate OpenCoreNet with the partners' 5G/6G testbeds to support global research collaboration and to explore new networking capabilities and applications that can be enabled by network and service federation, called Project AGILITY. Project AGILITY has also developed a Public Working Group called: Multi-Domain Knowledge Planes for Service Federation for 5G & Beyond Public Working Group (MDKP-PWG). The primary goal of this PWG is to Produce a Generic Architecture Framework Blueprint (GAFB) that articulates the role GANA Knowledge Planes (KPs) Platforms should play as Anchors for the Federation of Autonomic/Autonomous Networks.
OpenCoreNet is based on opensource. This will enable us to inject our new algorithm and protocol designs into the system for experimentation, grow the testbed with the opensource communities, and work with the opensource communities and the broader industries to contribute to 6G standards.  
We will leverage the tools we have developed over the past several years for other testbeds, especially the Platform for Networking Innovation (PNI) Testbed to support OpenCoreNet. These tools include, for example, the Multiverse platform for managing experiments, collecting network data, and monitoring network operations.
In Fiscal Year 2023, we completed phase-1 implementation of OpenCoreNet using Open5GCore software. We are now evolving the testbed to support more practical network configurations and advanced networking capabilities (e.g., E2E network slicing, QoS support, and network federation). Furthermore, we are using the testbed to generate network data to support advanced research efforts (e.g., AI-based methods for E2E service quality assurance).