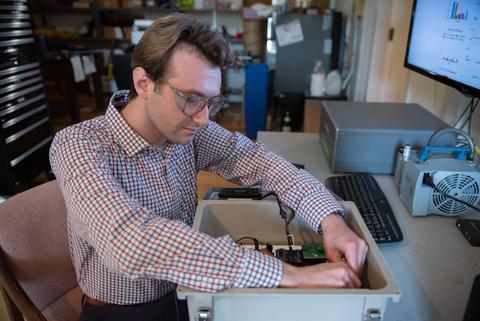 The path that brought Tyler Boyle to NIST has been anything but straight and predictable. 
With a bachelor's degree from the University of Maryland's Department of Atmospheric and Oceanic Science, Tyler initially became a high school teacher in nearby Howard County. He ran a makerspace and taught students to build weather stations out of inexpensive, off-the-shelf microcontrollers. 
Tyler loved the job, but when he heard that NIST and his alma mater were looking to develop low-cost greenhouse gas detectors, he couldn't pass up the opportunity. 
Measuring concentrations of greenhouse gases is crucial for cities, counties and states looking to reduce their climate impact. As the saying goes, you can only manage what you can measure. 
Climate modelers also demand more and better measurements, to make their predictions more accurate. A shortage of high-resolution data from cities is a key roadblock. 
Tyler and his NIST colleagues currently have 14 high-accuracy greenhouse gas monitors deployed in the Baltimore-Washington region and another six in the Northeast corridor. These detectors can sniff carbon dioxide in ambient air with an accuracy of 0.1 parts per million (micromoles per mole in metric units). 
The problem: Each setup costs as much as a couple of luxury cars. That makes them far too expensive for, say, a small town wanting to deploy a dozen units. 
Combining a hacker ethos with his meteorology and engineering skill sets, Tyler wired up units with three commercial sensors originally designed for measuring indoor air quality. A cheap, single-board computer the size of a credit card is the "brains" of the device. The whole setup has just $2,200 worth of parts. 
As a first step, Tyler attached a device to a building on NIST's campus in Gaithersburg, Maryland, for testing. Once he has improved the measurement accuracy to under 1.5 parts per million, he hopes to deploy some 50 units throughout the Baltimore-Washington region, integrating them into a network that can be read by anyone with an internet connection. 
These new devices won't replace the more expensive ones. Rather, they will fill in gaps to create a much denser dataset — which will help city and county leaders understand and tackle one of today's toughest and most urgent challenges.