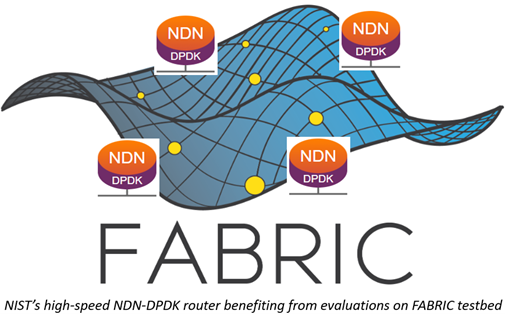 NIST researchers recently presented on their highspeed networking software router, called Named Data Networking-Data Plane Development Kit (NDN-DPDK), at the KNIT 6 FABRIC Community Workshop, and exhibited a poster on NDN-DPDK at the National Science Foundation's MERIF 2023 Workshop.
Today's Internet architecture was developed to be "host-centric" – enabling connectivity between devices. However, this architecture does not efficiently find and retrieve content, which users seek. To enable more information-centric networking, the Named Data Network protocol has emerged.
NIST researchers stated that the NDN-DPDK software implements the NDN protocol and has resulted in the first NDN router that allows Internet users to search and retrieve named data at speeds higher than 100 gigabit per second. Researchers also stated that the science community is using NDN-DPDK for data-intensive science applications, such as for distributing Large Hadron Collider datasets.
Additionally, NIST researchers reported that NDN-DPDK is benefiting from the recent deployment on "FABRIC" (FABRIC is an Adaptive Programmable Research Infrastructure for Computer Science and Science Applications), which is funded by the National Science Foundation. FABRIC is a larger and faster network than most other experimental testbeds and thus allows the following for the NDN-DPDK router:
Benchmarking performance at a greater scale

Measuring latency across wide-area locations

Reduced complexity due to using the same hardware at different locations
NIST researchers plan to conduct a scenario at three node locations on the FABRIC testbed, in which files are downloaded from two NDN-DPDK file servers. Statistics on download times and transfer throughputs will be collected using a web-based application ("webapp") they developed for this purpose.
NIST researchers view NDN-DPDK as accelerating NDN technology adoption for performance applications and enabling an Internet which is based on an Information-Centric Networking architecture.