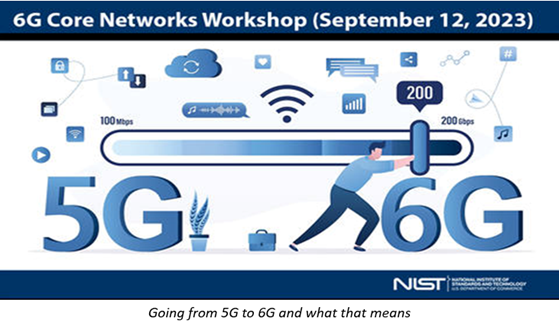 On September 12, 2023, NIST will conduct its 6G Core Networks Workshop, online and onsite at the National Cybersecurity Center of Excellence in Rockville, Maryland.
The workshop's goal is to discuss the transition from the 5G to 6G ecosystem. This transition poses great challenges while leading to profound economic, scientific and social changes. It is important to identify challenges, develop more stringent key performance indicators, and find solutions, and create new standards as needed.
Specifically, the workshop will address:
Evolving 5G service-based architectures and technologies (e.g., network slicing), to meet 6G needs

Managing the growing number of users, devices, and network traffic

6G core network architectures and automation

Enabling end-to-end service and quality assurance

The roles of AI in 6G core networks and end-to-end service enablement

Managing differentiated and even customized network services

Cloud and edge computing for 6G

How opensource and open testbeds can help advance 6G

Making 6G systems resilient
The workshop's morning sessions will focus on the current landscape, gaps, and challenges. Afternoon sessions will consist of panel discussion on selected topics. More information on the workshop and registration are available online.