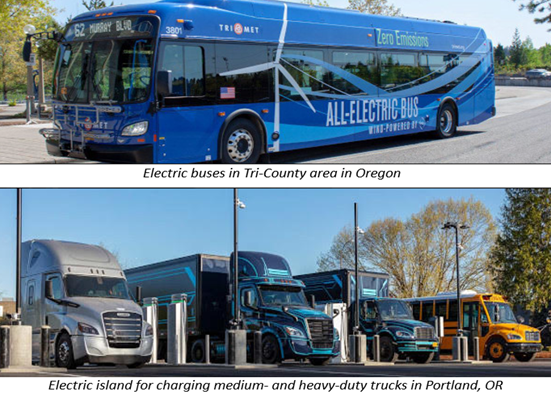 NIST's Global Community Technology Challenge (GCTC) is a collaboration platform that brings together cities, communities, industry, academic, and government stakeholders to advance emerging technologies for smart cities and communities. The GCTC's working groups are dedicated to implementing smart city and community projects. The GCTC's transportation working group is pursuing the following initiatives to make transportation more efficient and sustainable.
Enhanced Trip Planner: TriMet, the public transit agency for the Tri-County Metropolitan area in Oregon, launched an upgraded online tool that enables commuters to choose sustainable alternatives to using private vehicles, to include public transit, ride-sharing, bike rentals, pedestrian routes and more. The planner develops an efficient and cohesive commuting plan for using these transportation modes.
Electric Buses: With help from a Federal grant and Portland General Electric, the TriMet public transit agency has procured five electric buses for rigorous testing. The agency will subject the buses to challenging, real-world conditions to evaluate their performance and determine optimal maintenance schedules. The initiative is a major step towards using electric buses for sustainable public transportation, thus reducing greenhouse gas emissions and improving air quality.
Electric Island for Charging Medium- and Heavy-Duty Trucks: Located in Portland, OR, this initiative represents a major milestone for the West Coast Clean Transit Corridor Initiative, which is a collaborative effort between nine electric utilities and two government agencies. The initiative seeks to electrify 1,300 miles of Interstate 5 across three West Coast states. The Electric Island provides the charging infrastructure for medium- and heavy-duty trucks, enabling their transition to clean and sustainable energy.
The Active Street™ Concept will connect the TriMet MAX line in Hillsboro, OR to the Banks-Vernonia State Trail. The concept calls for combining walking, cycling, and low-speed electric vehicles (below 35 mph) into an integrated and environmentally-friendly transportation network. Their zero-emissions nature and reliance on clean electricity align with the goal of creating sustainable communities.