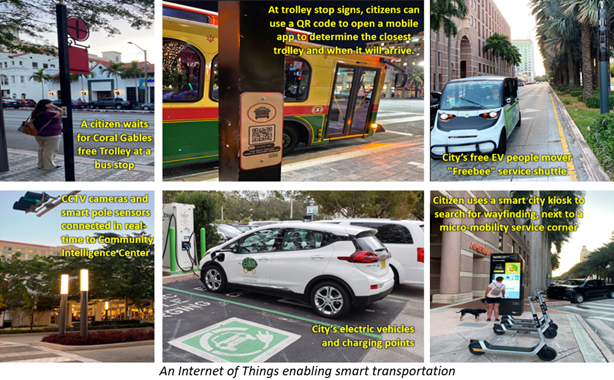 The City of Coral Gables is a significant participant in NIST's Global Community Technology Challenge (GCTC), which helps cities, communities, industry, academic, and government stakeholders pursue emerging technologies for smart cities and communities. The City of Coral Gables has implemented Internet of Things applications to make local transportation systems more efficient and beneficial to its residents' quality of life.
The City of Coral Gables operates a smart connected Public Transportation Fleet, consisting of trolleys and electric vehicles, termed "Freebees," both providing free shuttle service in the downtown area. At Trolley stop signs, citizens can use a QR code to open a mobile app to determine the closest trolley and when it will arrive. Free Trolleys pass approximately every 10 minutes.
The city owns 70 electric vehicles – Nissan Leafs, Chevy Bolts, GEMs, Teslas, not including the Freebee electric vehicles in its public transportation fleet, which is outsourced. The city has one of the largest electric vehicle fleets in the nation and plans to add more vehicles in the coming months. The City of Coral Gables has over 41 charging points on city property and plans to install 145 charging stations and 246 charging points over the next few years. 
Traffic is assessed with an intelligent connected infrastructure which is deployed citywide. It consists of:
Artificial Intelligence-powered poles which count pedestrian and vehicle traffic city in areas

Closed Circuit TV cameras with edge analytics and optical traffic sensors

Artificial intelligence-powered, Internet of Things traffic analytics at the edge, in distributed clouds

Aggregation, analysis, and visualization of asset data and metadata

Situational awareness dashboards for traffic density and safety

A traffic digital twin and intelligent signal controllers network for traffic simulation and control
Additionally, the City of Coral Gables and Miami-Dade County's transportation systems are integrated. This integration resulted from Coral Gables' Information Technology and Parking Departments working with Miami-Dade County's Department of Transportation and Public Works and industry transportation technology partners. Coral Gables is the first city in Miami-Dade County to integrate with the county's transit system; this allows residents and visitors across the county to access real-time, trolley routes, vehicle locations, stops, connections, and estimated times of arrival from multiple apps.