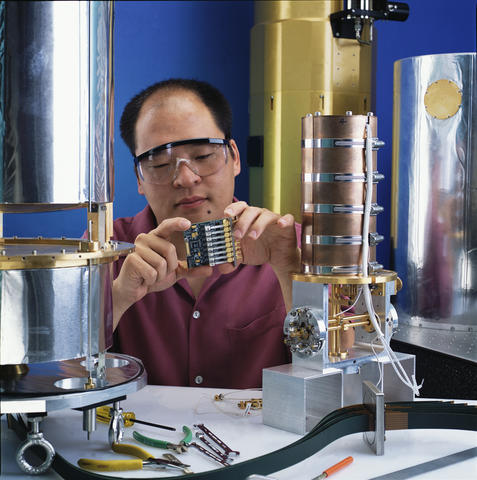 Computers are now a part of every aspect of our lives — from your watch to your washing machine — and everyone wants faster, more-versatile devices. 
One way scientists may be able to make our devices faster and more effective is using photons (particles of light) as the fundamental element for encoding information. But one of the biggest challenges that this field faced was the inability to see photons in a faint pulse of light. 
That's where NIST researcher Sae Woo Nam (shown here) and his colleagues came in. They built a detector that's now used all over the world. The team's photon detector operates at very cold temperatures and is highly sensitive. 
It works pretty simply: When the detector absorbs a photon, the temperature increases. By measuring that change in temperature, scientists can determine the number of photons that are present. 
Building and tinkering with things has interested Sae Woo ever since he was a child. Sae Woo's parents immigrated to the U.S. after the Korean War, and he grew up in Dayton, Ohio — home to Wright-Patterson Air Force Base. Growing up near the birthplace of aviation gave Sae Woo a love of engineering and aeronautical science. 
That was then; this is NIST. 
Already, the photon detector technology from Sae Woo and his team is helping improve communication between the Earth and satellites and space stations. We don't know yet what it might mean for quantum computing, but there are many possibilities, including new medicines, new chemicals and more powerful computers. 
Photons may just help science take a quantum leap forward.