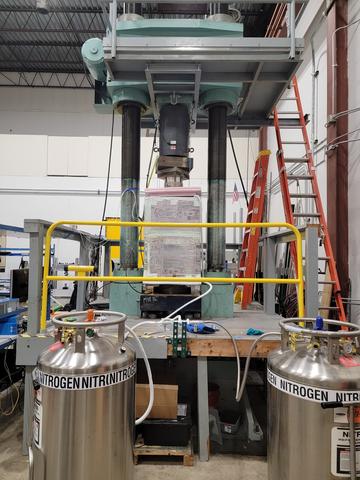 At a high-bay laboratory on NIST's campus in Boulder, Colorado, NIST researchers use the machine shown here to test the mettle of metals. Specifically, they measure the fatigue of high-performance steels used for transporting and storing cryogenic liquids. 
For example, in the energy sector, it's more efficient to transport gases (natural gas, hydrogen, etc.) in their liquid forms, which take up a smaller volume. Due to processing requirements, the resulting liquids are very cold. 
The temperatures of these liquified gases can range from 20-100 kelvins. For comparison, the air temperature of Antarctica in the winter can reach as low as roughly 223 kelvins. 
That cold can affect the container surrounding the liquid. Certain steels become brittle at cryogenic temperatures. For pipelines and pressure vessels, points where two components need to be welded together are more susceptible to failure from fatigue. 
That's why NIST researchers are studying which welding procedures and steels would be most appropriate to use as the material of choice when balancing toughness against cost. 
The machine, powered by a hydraulic system in its underbelly, presses or pulls (compression or tension) a sample with up to 1 million pounds of force (approx. 4,400 kilonewtons). In some cases, our team even submerges large-scale parts and some of their testing equipment in liquid nitrogen at 77 kelvins. 
On smaller load frames, specimens of interest can even be submerged and tested in liquid helium (at 4 kelvins). 
Case in point: the collaboration with the National Aeronautics and Space Administration and American Society of Mechanical Engineers. Our researchers tested the welded metal for pressure vessels, rounded cylinders with a liquid that is cold enough to be relevant to space purposes. The research results were published last July.