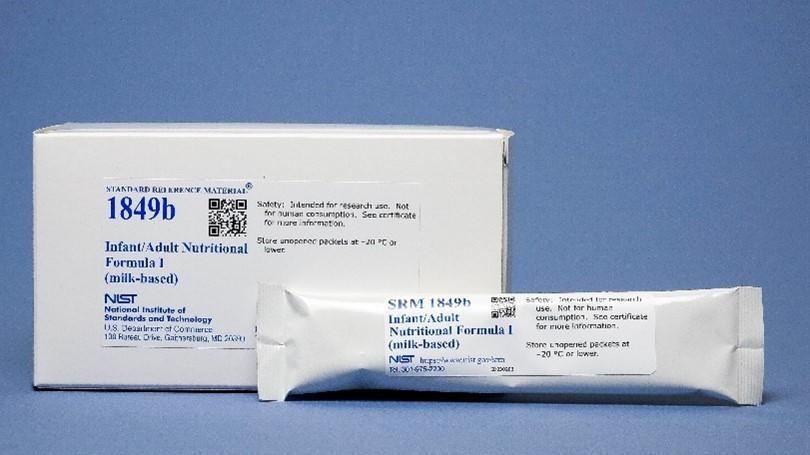 Infant formula is one of the most highly regulated foods in the United States and around the world.  The Infant Formula Act of 1980 (Public Law 96-359) requires that manufacturers test their products to make sure that nutrients fall within specified limits.
Beginning in 1996 with Standard Reference Material (SRM) 1846 Infant Formula, the National Institute of Standards and Technology (NIST) has provided reference materials for use in assuring the quality of infant formula-related nutrient measurements.  Laboratories needing an infant formula or similar material for the demonstration of method validity and accuracy when analyzing food products to generate data for nutrition labels can use the currently available edition of SRM 1849b.  In addition to SRM 1849b, NIST also offers related products including SRM 1869 Infant/Adult Nutritional Formula II (milk/whey/soy-based), RM 8260 Infant Formula (hydrolyzed milk-based), and RM 8261 Adult Nutritional Formula (high protein).
SRM 1849b is a milk-based hybrid infant/adult nutritional powder, prepared by a manufacturer of infant formula and adult nutritional products.  A base liquid containing all constituents was conventionally heat processed, homogenized, and then spray-dried.
A unit consists of 10 packets, each containing approximately 10 g of material.
Learn more
Value Assignment of Standard Reference Material® 1849b Infant/Adult Nutritional Formula I
Melissa M. Phillips, Laura Wood, Charles Barber, Bruce Scruggs, John Sieber, James H. Yen, Lee L. Yu