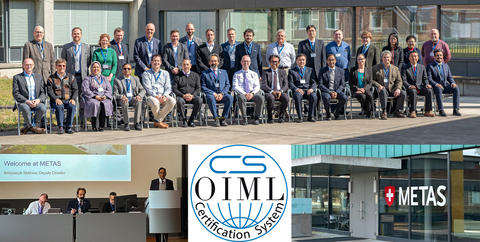 Could your measuring instrument manufacturing company benefit by having a significantly improved acceptance rate for your products in global markets? If yes, then obtaining a certification through the OIML Certification System (OIML-CS) may provide the critical evidence needed that your instrument type complies with the requirements of the relevant OIML Recommendation. As we continue to harmonize domestic and international requirements, test procedures, and type evaluation for measuring instruments, this will become increasingly important for all stakeholders both here in the US and abroad.
The International Organization of Legal Metrology held its eighth annual Certification System (OIML-CS) Management Committee meeting in March 2023.  The meeting was hosted by the Swiss Federal Institute of Metrology (METAS) at its facilities in Bern, Switzerland. This meeting is especially noteworthy because it was the first time this key committee (or, in fact, any large OIML committee) has met "in-person" since 2019, due to pandemic issues and international travel restrictions. The OIML has operated a system for the international type evaluation of measuring instruments used in legal metrology since 1991. However, in January 2018 and after a three-year development period, a new and radically improved OIML Certification System (OIML-CS) was deployed with much better oversight and peer-review of all issuing authorities and test laboratories, as well as including more detailed written procedures that are applicable to many more instrument categories.
The US was represented by Ralph Richter (NIST OWM) and Darrell Flocken (NCWM/NTEP) at the meeting with excellent participation that included a diverse international representation overall. Several pressing issues for the Certification System were resolved across a wide range of technical areas. Thirty-seven (37) measuring instrument categories are currently covered under the OIML-CS ranging from protein and moisture measuring instruments for grains to weigh-in-motion (WIM) devices and automatic weighing instruments. See here for the complete list of these instruments and systems.
Despite the many challenges faced by the Certification System during the pandemic, it was generally felt that the OIML-CS continues to function well. It was expressed that the governance of the OIML-CS provides a high level of confidence and promotes much greater efficiencies for the extensive number of countries that are actively utilizing the system. The OIML Issuing Authorities and Test Laboratories are continuing to extend their scopes to include additional instrument categories (such as arched-chute weighing systems and liquefied natural gas (LNG) systems) and new editions of OIML Recommendations. In October 2021, the CIML approved a new revision of the document B18 "Framework for the OIML Certification System (OIML-CS)" which implements the CIML decision to allow OIML Issuing Authorities to use ISO/IEC 17020 (with additional requirements) as an alternative to ISO/IEC 17065 to demonstrate competence.
With the fully functioning OIML Certification System now robust and firmly in place, one of the most important issues currently facing the Management Committee is how to continue to "grow" the system by improving international awareness that the system exists, promoting the benefits of the system to all parties, and increasing the number of measuring instrument certificates that are issued each year.
World-wide acceptance of measurements requires that the measuring instruments/systems themselves are trusted through an internationally accepted type evaluation certification system. The OIML Certification System and its Management Committee is continually working toward that objective which plays a critical role in facilitating global trade.
Interested in learning more? Details and specifics about the OIML Certificate System are available on the OIML website. If there are any questions about the OIML-CS, or for more information, please contact Ralph Richter at ralph.richter [at] nist.gov (ralph[dot]richter[at]nist[dot]gov).