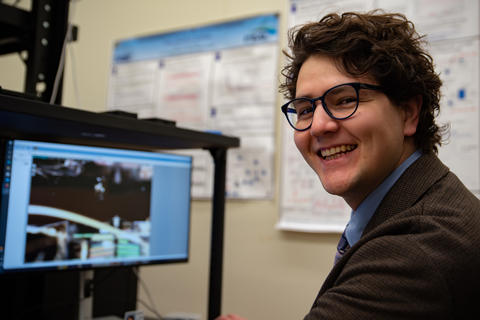 Mechanical engineer Liam G. Connolly didn't start out working in the emerging world of quantum information systems, but the NRC Research Associateship Programs at NIST gave him an opportunity to try something new. 
Which is good, because at NIST we are trying new things all the time. 
Liam recently graduated with a Ph.D. from the University of Texas at Austin, where he focused on developing new measurement tools for nanomanufacturing. With experience in precision engineering at the nanometer scale, he wanted to use his background for a new challenge: understanding the nuts and bolts of devices that apply quantum physics to computing, sensing and networking. It's called quantum engineering. 
Now, Liam works on two projects for us:  
Quantum Network Connections
The internet operates by converting electrical pulses into optical signals to cover long distances, with fiber optic cables spanning oceans and continents to link the world together. However, bringing together future quantum technologies in a network will require the ability to send signals with vastly lower amounts of noise (similar to static on a radio) that could otherwise destroy the information being transmitted. 
Liam is working on a microwave-to-optical transducer, which uses acoustic vibrations to bridge the gap between the gigahertz microwave signals used in quantum devices and the terahertz telecom bands that are standard for fiber optic communications. 
Scanning Tunneling Microscopy
Often regarded as one of the most precise measurement techniques ever discovered, scanning tunnel microscopy harnesses an effect called quantum tunneling to give us a view down to atoms themselves. Using the technique with microelectromechanical systems can boost performance in tiny packages. 
By combining the two approaches, Liam is working to enhance the quality and speed of imaging with better control over these pencil-tip-sized devices. 
The application period for NRC opportunities at NIST runs through Feb. 1, 2023. Spread the word and get started on your search through the database.