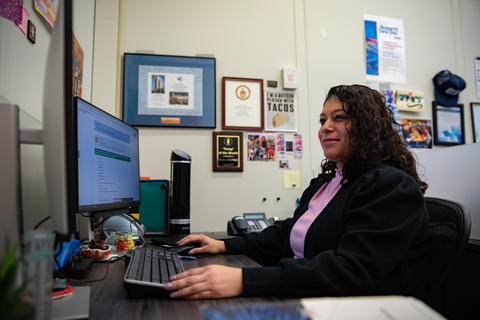 The big switch — NIST's Serena Martinez served as an administrative professional until recently, not sure she was capable of a career in science and technology. But one trip to a conference for women in tech changed everything. 
Encouraged by her supervisor to represent NIST in 2019, Serena attended the Grace Hopper Celebration, an annual gathering of thousands of women in STEM careers. The massive turnout ignited something inside of her. Serena saw a new path ahead of her, a career in information technology that she hadn't considered before. 
So, she had a goal … but what next? 
Figuring out the steps toward a midcareer change couldn't happen in isolation, which is why Serena signed up to be part of NIST's mentorship program for staff. 
Her mentor, human resources specialist Morgan Frycklund, had the background knowledge to get Serena motivated. She challenged Serena to push beyond her own hesitancies. For example, Morgan consistently pressed Serena to connect with college advisers and determine whether her previous credits could be transferable. 
At the time, Serena had to make a life-changing decision: As a full-time employee and mom, could she take on the additional responsibility of being a student? 
It wasn't a comfortable choice for Serena to make, but it had to happen for her to move forward. The energy from thousands of women in tech inspired her to start a new chapter in life. 
Now, Serena is earning her bachelor's degree in cybersecurity technology from the University of Maryland Global Campus. It's an entirely new field for her, and with support from both her mentor and supervisor, she's ready to jump in.