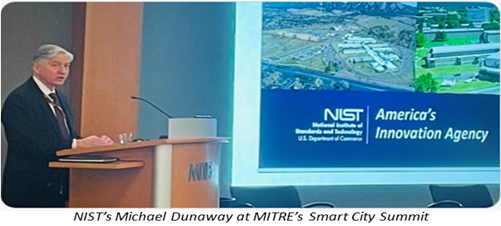 NIST's Global Community Technology Challenge (GCTC) leader, Michael Dunaway, gave the keynote presentation at MITRE's Smart City Summit, in January 2023, addressing the GCTC's future priorities. Dunaway described the GCTC as a collaboration platform for cities, communities, industry, academic, and government stakeholders, who seek emerging technologies for smart cities and communities. He then laid out the GCTC's goals for 2023-2025:
Evolve into a national public-private partnership dedicated to the integration of advanced technologies for cities and communities.

Develop a research-based scientific foundation for the GCTC and NIST Smart Cities Infrastructure program, with emphasis on communications technologies to enhance public safety, and community resilience.

Broaden the definition of and agenda for smart cities and enable them to address cross-cutting challenges and achieve a more equitable distribution of benefits for residents and communities.
The goals were reported by MeriTalk, in NIST Lays Out Smart City Priority Goals for 2023-2025, January 12, 2023. It further reported that the GCTC expects to release a strategic plan in the coming months, which will detail how it will meet these goals.
Dunaway's presentation also was covered by GCN in Future-proofing smart cities with open standards, January 17, 2023. "The starting point is going to be an open-standards approach to development that offers the opportunity for future growth and expansion and evolution of digital transformation," Dunaway told GCN. It is fundamental to future proofing, said Dunaway. It enables interoperability which could stave off obsolescence and keep a city's infrastructure connected even as applications are added.