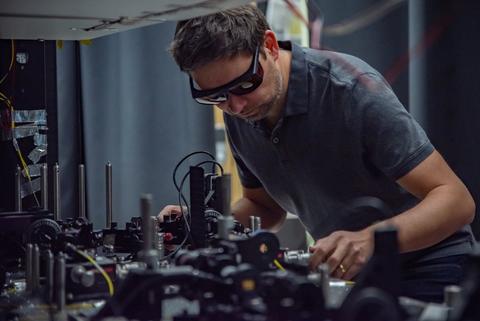 Quantum physicist Krister Shalm has a few spots in his laboratory for motivated undergrads. Do you know any STEM-centric college students who might be interested? 
Right now, Krister and his colleagues are using light to understand on a fundamental level how nature works. At the smallest scales, they are testing the properties of atoms and molecules to build a foundation of knowledge for technologies of the future. 
Specifically, Krister works with a quantum phenomenon called entanglement — the interlinking of quantum particles at a distance — for a few separate-but-correlated projects.
Randomness
Random number generation is critical for security in our modern age, but how can we be sure those numbers are as random as we need them to be? And how can we know the process to get the numbers isn't somehow rigged? 
Quantum entanglement may have the solution to both of those concerns. 
Networks
Quantum bits (qubits) can carry lots of information from one place to another, but the internet and our classical computers can't process qubits. That's where light and entanglement can come in. First, we need to study the properties of light for information transfer. 
Krister Shalm is one of NIST's researchers participating as mentors this year in our Summer Undergraduate Research Fellowship (SURF) program, and we're now accepting applications for a hybrid format in summer 2023. Learn more about the program.
Follow us on social media for more like this from all across NIST!