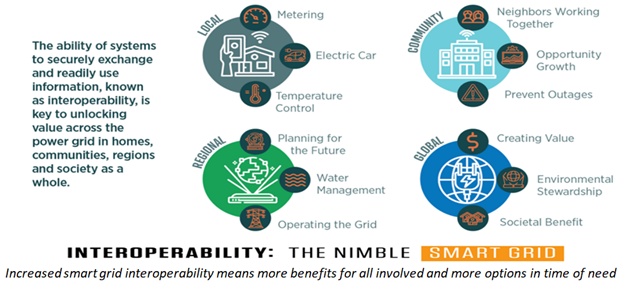 "Interoperability is foundational to the development of more inclusive grid institutions." That was the key point made by NIST researchers in their article, Reducing Barriers to Entry and Hedging Against Obsolescence With Smart Grid Interoperability in Competition Policy International, November 2022. As the article's title indicates, increased smart grid interoperability can dissolve barriers to entry for new participants, contribute to creating value for the electric grid, and prevent obsolescence from eroding gains as technologies rapidly evolve.
The authors give multiple examples of how increased interoperability is needed to transform the grid. They note that lack of interoperability is the last barrier to full use of renewables, like wind and solar, in electricity markets and operations. Also, increased interoperability is needed to help prevent market fragmentation which divides critical network infrastructure.
Their most illustrative example of interoperability's potential is the water heater. It is designed to have a long lifetime, during which more cost-efficient replacements will emerge. Part of the problem of swapping out water heaters lies in removing a heavy system from existing plumbing. Consequently, less efficient heaters remain in service longer and possible energy savings go unrealized. The authors also note that if a multitude of water heaters could communicate demand to the grid, system operators could better manage grid loads and reduce generation costs – with no inconvenience to customers.
Moreover, the need for increased interoperability is growing. Energy executives and households face rising costs, while a complex global economy is trying to reconfigure itself to deal with threats to public health, cybersecurity, resource production, and energy delivery. Greater grid interoperability can give decision makers more options when dealing with events, ranging from economic shocks to low-probability, high-impact events that can overcome even the best plans.