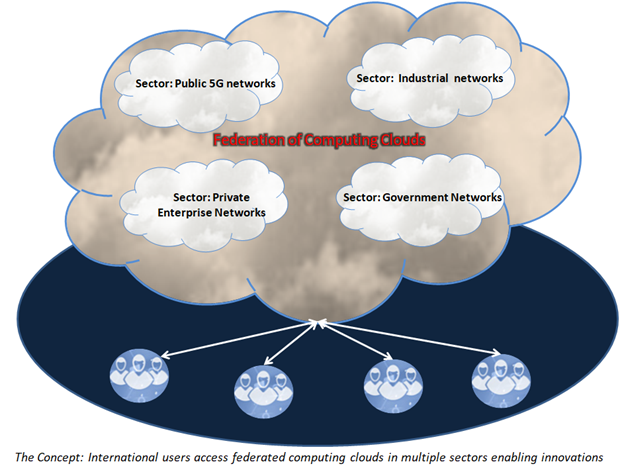 In October 2022, international collaborators, including NIST researchers, met in Jeju, South Korea, to define a path to federated 5G Testbeds, dubbed "Project Agility," launched by the Korea Institute for Advancement of Technology. The same international collaborators had met at NIST in Gaithersburg, Maryland in May 2022, to discuss technical details, division of labor, and scheduling for the project.
The goal of Project Agility is to develop testbeds that use 5G to access federated cloud computing, which ties together computing clouds in multiple sectors – government, industry, etc. Compared to today, 5G will give developers faster and greater access to data from more sources. Just as 4G enabled streaming, federated 5G is expected to lead to new innovations. Also, these linked testbeds will allow a testbed to remotely use technologies at other testbeds, enabling even more innovations.
At the October meeting, Project Agility members developed the following objectives leading to federated 5G testbeds:
Develop an architectural framework for federated 5G testbeds to do cross-industry innovation

Specify the framework's interconnection requirements for federated 5G testbeds

Define and demonstrate a use case for federated 5G testbeds to do cross-sector innovation

Implement programming interfaces for federated 5G testbeds

Demonstrate management and control for federated 5G testbeds to execute the use case.
At the meeting, the NIST lead on Project Agility, Robert Bohn, presented on how IEEE 2302-2021 Standard for Intercloud Interoperability and Federation could help achieve federated cloud computing. Project Agility will use the majority of this standard to develop its architecture.
Project Agility presented its federated 5G tested plan at the International Conference on Information and Communication Technology 2022, also conducted in Jeju, South Korea, and which held a session on Project Agility, titled Network/Service Federation for 5G and Beyond.