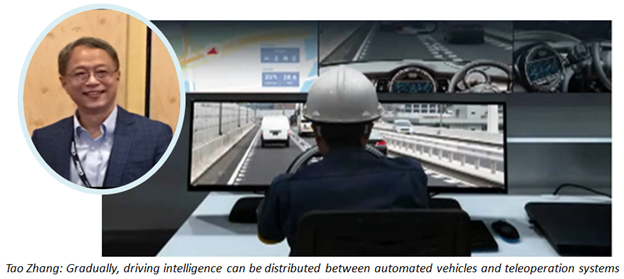 NIST's Tao Zhang participated in the breakout session on Remote Assistance and Teleoperation for Automated Vehicle Operations. Zhang addressed how teleoperations could remotely assist automated vehicles, when needs arise. In doing so, Zhang noted teleoperations' challenges, opportunity, the future, and enabling research.
Challenges include:
Enabling the vehicle to remain safe when network performance fluctuates. It means balancing capabilities between those on the automated vehicle and remote teleoperations system, which serves as safety back up. It also means having enough warning time to avoid an unsafe situation.

Determining how many remote vehicles one human teleoperator can handle. Teleoperators may monitor several automated vehicles, but what happens when two or more need human intervention? Such situations must be minimized.
Opportunity: Today, teleoperations are done mostly by humans. But automation and artificial intelligence are being introduced into the teleoperation. That trend is going to continue, as it does, that human burden is going to decrease, and automation is going to increase. The opportunity lies in integrating the teleoperation system with the automated vehicle system such that unsafe situations can be detected in time and teleoperation assistance can be automatically activated.
The Future: Gradually, driving intelligence and functions can be distributed between automated vehicle and teleoperation systems, enabling a broader spectrum of solutions for automated driving. Teleoperations will be an important long-term achievement for automated driving.
Enabling Research: NIST is with working with the Teleoperation Consortium on Teleoperations Guidelines, which will identify challenges, opportunities, and potential areas that could benefit from standardization. The breakout session addressed approaches to developing these guidelines.