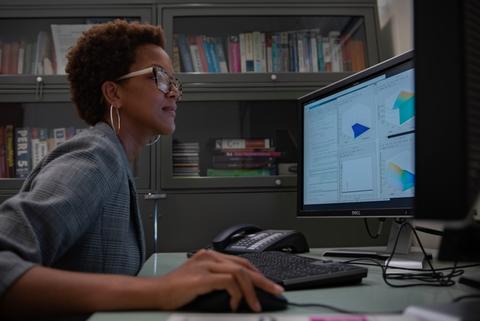 Danielle Brager earned a Ph.D. in applied mathematics and is currently halfway through a National Research Council postdoctoral fellowship at NIST — but that's not the career path she set out on initially. Nearly every step of her success has involved an element of personal discovery, plus the advice of good mentors who saw her talent and encouraged her development. 
Follow Danielle's journey: 
🧭 The University of Texas at Dallas: Initially, Danielle registered as an engineering major, but she quickly got hooked on mathematics while taking required courses, leading to her changing her major to math. Then, she transferred to ... 
🧭 The University of Houston: After graduation, she taught high school mathematics. While teaching, she decided to pursue a master's degree so that she could teach dual credit courses to her students. So, she enrolled in the mathematics master's program at … 
🧭 Texas Southern University: Some of Danielle's TSU professors recognized her gifts. They told her about Ph.D. programs and encouraged her to attend … 
🧭 The Field of Dreams Conference: Hosted by the Math Alliance, which aims to increase the number of math doctoral degrees among traditionally underrepresented groups, it was where she found a program with ... 
🧭 Arizona State University: At ASU, she studied applied mathematics focusing on mathematical biology. Her research involved the study of retinitis pigmentosa, an incurable eye disease. She developed math models that contribute to the understanding of the progression of the disease and may someday lead to a cure. Danielle was wary of accepting a postdoc that would have her working on a narrowly defined and assigned problem someone else handed her. Wanting more freedom, she attended a talk by Anthony Kearsley from … 
🧭 NIST: Anthony described the collaborative nature of his research at NIST, which made Danielle feel that a postdoctoral opportunity at NIST through the NRC Research Associateship Programs was the best choice for her. Now, Danielle lends her mathematical prowess to a research project that straddles multiple disciplines: mathematical medicine, public health and forensic science. 
Her primary focus concerns the mathematics of identifying a drug called fentanyl, a powerful synthetic opioid that has proved deadly to many who have abused it. Analyzing substances from crime scenes often involves using a mass spectrometer, which can help identify the chemicals in a sample. It can be difficult to distinguish one chemical's signature from another, so Danielle is a part of a team developing a math technique that could reduce the likelihood of incorrectly identifying a compound.
Danielle is not sure what she will do next when her postdoc ends, but keeping her eyes and ears open has led her in exciting and unexpected directions. She plans to continue that strategy.