Cybersecurity Hiring Momentum Ramps Up, New Data from CyberSeek™ Reveals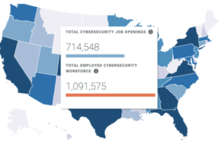 Today at the at the NICE Conference & Expo in Atlanta, Georgia, Rodney Petersen, Director of NICE, introduced updates to CyberSeek during his opening remarks.
The updates include new data that show that demand for cybersecurity talent is speeding up as more public and private sector organizations look to strengthen defenses against a multitude of threats. In the US, there were 714,548 job postings for cybersecurity job roles and skills during the 12-month period running through April 2022.
Learn more about these updates in the official press release.
---
CyberSeek is supported by the National Initiative for Cybersecurity Education (NICE), a program of the National Institute of Standards and Technology in the U.S. Department of Commerce, under financial assistance award # 60NANB19D124. Learn more at cyberseek.org.