The National Institute of Standards and Technology (NIST) invites learners of all ages to explore and discover a wide variety of Science, Technology, Engineering, and Mathematics (STEM) resources using the recently launched Education portal and NIST Education STEM Resource Registry (NEST-R).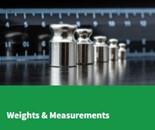 Education Portal 
The NIST Education site is a hub for all things education across the agency. Learn how and why we measure things! Content is free and available to all. Elements include quick links to the new NIST Educational STEM Resource Registry (NEST-R), the Metric Program, experiential learning opportunities, and K-12 curriculum materials, including the SI Superheroes! Periodically, focused topics known as Featured Collections will rotate through. The Weights & Measurements collection was designed to celebrate national Weights and Measures Week, held each 1 to 7 March (Figure 1).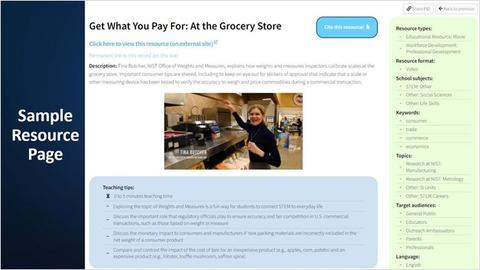 What is NEST-R?
The NIST Educational STEM Resource Registry NEST-R, is an online tool that allows educators, students, parents, and others to easily discover a variety of educational resources published by NIST staff across many program offices and websites. To take NEST-R for a test drive, visit https://nestr.nist.gov/.
NEST-R is a great starting point for both formal and informal (out-of-school) educators, especially measurement science ambassadors, seeking to communicate Science, Technology, Engineering, and Mathematics (STEM) concepts and encouraging career pursuits through education outreach activities. Users search the registry using keywords and customizable filters to pinpoint resources for specific learners, including short videos, real-world applications, and internships.
Each resource page includes a green box featuring metadata, such as resource type, format, school subject, and more. The blue box highlights teaching tips. Each resource also includes a record permalink and citation button, which makes lesson or outreach session planning easy (Figure 2).
The registry was developed during the pandemic as a mechanism to help educators and families. Developed by the NIST Educational Outreach Working Group, a multi-divisional team involving staff from the Communications Technology Laboratory, Material Measurement Laboratory, Physical Measurement Laboratory, Information Technology Laboratory, Public Affairs Office, and Information Services Office.
NIST Giphy Site 
Check out the NIST Giphy site https://giphy.com/NIST to liven up posts and other digital messages. Each NIST SI Superhero has their own animated graphic, like this one for Candela (Figure 3).