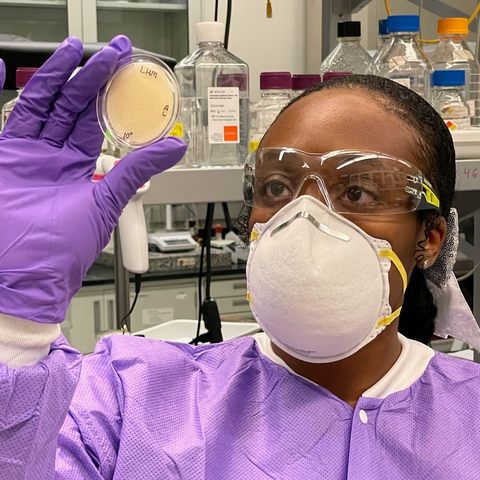 In grade school, Alshae' Logan hadn't seen or heard of a Black woman earning a doctoral degree, nor had she been taught of the contributions Black women made to STEM fields. Her only exposure to a scientist or engineer was through Bill Nye the Science Guy. 
That's why her journey into science, and her current work as a postdoctoral researcher at NIST, is especially remarkable. 
It started with a passion for helping others, specifically those who live with autoimmune diseases. Alshae' attended two historically Black colleges and universities: first Shaw University for her bachelor's degree in biology and then the North Carolina A&T State University for her master's. 
She then earned her Ph.D. in microbiology and molecular genetics in 2020 from Michigan State University, an accomplishment that, unfortunately, not many who look like her can claim. When Alshae' analyzed National Science Foundation data over the course of nine years, she calculated that only 7.1% of doctoral degrees were earned by Black women. 
Now at NIST via the NRC Research Associateship Programs, Alshae' puts her fascination with microbes to significant use, testing the quality of water as it passes through a house's plumbing system. Stagnant water can breed pneumonia-associated bacteria including Legionella in shower heads, faucets, inside the pipe walls and in water heaters. 
Using a model house on the NIST Gaithersburg campus that serves as a controlled laboratory, she's tracking bacterial growth from water source to heater to faucet, exploring the way temperature and other factors play a role in the process. 
This work fits squarely into Alshae's motivation to help others, since specific Legionella species can cause Legionnaires' disease, a severe form of pneumonia that can be fatal in those with weakened immune systems. On a broader scale, she recognizes that access to clean water is still a social and environmental injustice issue, especially for minority and low-income populations.