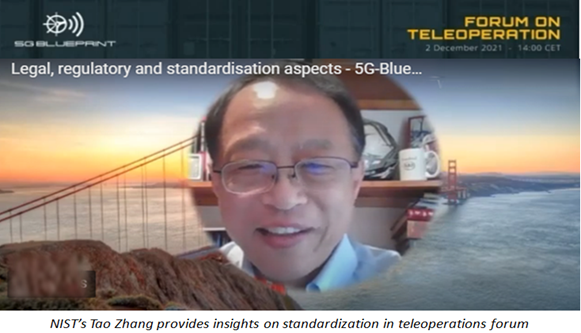 On December 2, 2021, over 180 experts from around the world participated in the first 5G-Blueprint Forum on Teleoperation, organized by the 5G-Blueprint Project, the Teleoperation Consortium, and NIST. The Forum addressed approaches and concepts for remotely operating different types of vehicles.
NIST's Tao Zhang contributed to the panel on legal, regulatory, and standardization aspects of teleoperation, along with Scott McCormack (Teleoperation Consortium); Michael Fernandez-Ferri (Greggo Networks); Mathijs Klepper (KPN); Gino Ducheyne (Belgian Institute for Postal Service and Telecommunication); and Yunpeng Zang (Ericsson).
A key issue identified in the Forum was the relationship between autonomous vehicles and teleoperated mobility. Zhang stated that the two are intrinsically integrated. Today, human teleoperators can help self-driving vehicles navigate situations the vehicles cannot handle on their own. Over time, increasingly automated teleoperation can provide additional ways to achieve driving automation beyond putting all driving intelligence on the vehicle. Zhang also noted several teleoperation topics of industry interest that could benefit from standardization, including:
Taxonomy for teleoperation  
Matrix characterizing the safety of teleoperation
Operational design domains for teleoperation  
Interfaces for the teleoperation system and the vehicle
Interfaces for vehicle passengers interacting with the teleoperation system
Zhang emphasized the need to examine teleoperation applications. They should be considered along with network requirements. No matter how well a wireless network is designed, its performance can fluctuate due to many factors such as physical environments and network congestion. Therefore, it is important to consider what teleoperation applications can do to enable the safety of remotely operated vehicles under poor network conditions. The more the applications can do, the less stringent requirements they will require the network to meet.