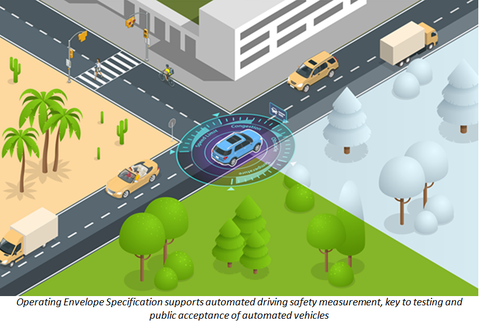 NIST released its Special Publication 1900-301, Automated Driving System Safety Measurement Part I: Operating Envelope Specification. It presents a novel approach to automated driving systems (ADS) safety measurement.
SAE International defines an automated vehicle as being equipped with an ADS. The NIST approach to measuring automated vehicle safety builds on the operational design domain (ODD), or operating conditions, for which ADS is designed to function. The ODD for an automated vehicle was originally proposed by the Crash Avoidance Metrics Partnership. The ODD is now broadly accepted by industry and government as a taxonomy for original equipment manufacturers to express the design intent for vehicle automation.
NIST introduces the concept of an operating envelope specification (OES), a structured description of the operating environment for driving. The OES supports calculation-based reasoning for vehicle performance in that environment, with testing and certification applications and in real-time driving.
A diverse group of stakeholders can benefit from OES, including developers, technology suppliers, and safety assessors. Infrastructure designers, as well as owners and operators of ADS-equipped vehicles, also can use OES to determine whether operating conditions are suitable for safe automated vehicle operation. Additionally, teleoperators can use OES data to support remote driving or remote assistance. Finally, the automated vehicle itself will need access to OES information to understand and respond safely to its environment. Reliable safety assessment methods can contribute to public acceptance of automated vehicles.
The NIST approach resulted from an open stakeholder engagement process in the NIST ADS Safety Measurement Technical Working Group, which was initiated based on stakeholder input at the NIST workshop on Consensus Safety Measurement Methodologies for Automated Driving System-Equipped Vehicles and open to all interested parties, including manufacturing, transportation, research and development, government, and roadway design participants. The approach also leverages the NIST Cyber-Physical Systems Framework, which describes the engineering concerns of system stakeholders, including trustworthiness, and how they are addressed in component, subsystem and full system development.
Ongoing work at NIST, with its industry, government, and academic partners, will build on OES to characterize safety metrics for automated vehicle maneuvers and overall performance.