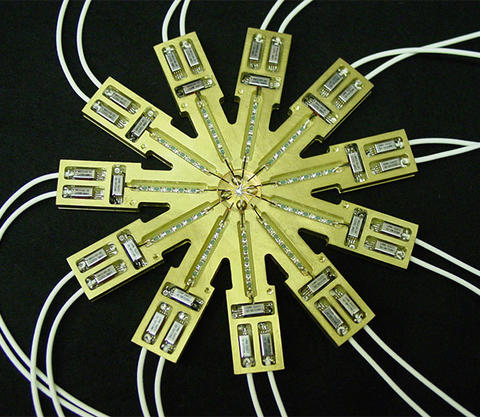 WASHINGTON — The U.S. Commerce Department has established a high-level committee to advise the United States government on matters related to microelectronics research, development, manufacturing and policy and is now seeking to recruit top-level candidates to serve on the committee.
A formal notice describing the Industrial Advisory Committee (IAC) and the call for nominations appears in the Federal Register.
"Microelectronics are enabling technologies for industries of the future, like artificial intelligence, autonomous vehicles, 5G and quantum computing," said Secretary of Commerce Gina Raimondo. "With President Biden's commitment to ensuring that the United States remains a global leader in microelectronics manufacturing and research, we are at a pivotal moment with the opportunity to bolster our economic strength, security and technological standing. This committee will provide the necessary practical, expert advice from industry, academia and government to help us get this right."
"We have an immense opportunity to strengthen U.S. competitiveness in microelectronics, but this is no simple task," said Deputy Secretary Don Graves. "Advances in standards, materials, instrumentation, measurement, testing and manufacturing capabilities are needed to help design, develop and manufacture next-generation microelectronics. I look forward to learning from the expertise on this committee to guide us in making tangible progress."
The William M. (Mac) Thornberry National Defense Authorization Act (NDAA) for Fiscal Year 2021 calls for the secretary of commerce, in consultation with the secretaries of defense, energy and homeland security, to establish the IAC. The committee will advise on topics including the science and technology needs of the nation's domestic microelectronics industry; the extent to which the strategy developed by the National Science and Technology Council's Subcommittee on Microelectronics Leadership is helping maintain U.S. leadership in microelectronics manufacturing; assessment of the microelectronics research and development programs and activities authorized under the NDAA; and opportunities for new public-private partnerships to advance microelectronics research, development and domestic manufacturing.
The IAC will consist of expert leaders representing a range of organization sizes from industry, federal laboratories and academic institutions. These experts will be qualified to provide advice relating to microelectronics research, development, manufacturing and policy.
Advances in microelectronics continue to be a linchpin of U.S. economic prosperity and national security. In light of rising needs to boost U.S. semiconductor manufacturing, research innovation, and supply chain security, the department's National Institute of Standards and Technology (NIST) is dedicated to helping the U.S. microelectronics industry maintain its lead. NIST conducts cutting-edge research in partnership with industry and academia, establishes paths forward for innovation and transitioning research advances into manufacturing, and works closely with industry standards organizations. NIST will provide administrative support to the new committee.
Nominations for the committee will be accepted on an ongoing basis and will be considered as vacancies arise. Details for submitting nominations are included in the Federal Register notice.