CyberSeek™ Expands Resources on Careers, Credentials and Training as the Need for Cybersecurity Professionals Grows Across the US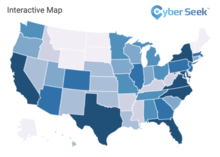 Today at the at the NICE Symposium: A Coordinated Approach to Supply Chain Risks Rodney Petersen, Director of NICE, introduced updates to CyberSeek during his opening remarks.
The enhancements to CyberSeek include updates to the supply and demand data as well as the addition of a Cybersecurity Education and Training Providers Locator with information on more than 1,000 academic institutions and training providers that are helping learners acquire knowledge and skills in cybersecurity. The list of providers is searchable by geography, by institution, and by the type of credential offered – associate, bachelor's and graduate degrees, and industry-recognized certifications.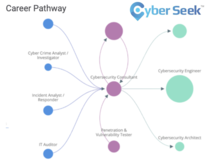 The interactive Cybersecurity Career Pathway has also been expanded and updated to reflect the current state of the employment market. The pathway shows key jobs within cybersecurity, common transition opportunities between them and detailed information about the salaries, credentials, and competencies associated with each role.
Learn more about these updates in the official press release.
---
CyberSeek is supported by the National Initiative for Cybersecurity Education (NICE), a program of the National Institute of Standards and Technology in the U.S. Department of Commerce, under financial assistance award # 60NANB19D124. Learn more at cyberseek.org.