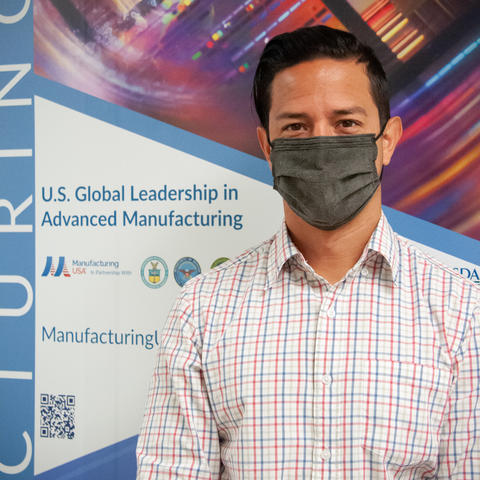 Zack Valdez's story is one of family, self-discovery, research and advocacy. 
Growing up in Dallas, Zack's childhood was shaped by his multicultural family of Mexican and Polish heritage. Later, while playing soccer and studying physics and engineering at St. Mary's University, he discovered a new kind of culture — a culture of science. 
As Zack was exploring this new scientific identity, he lost his brother and his mother, both of whom had been major sources of support and encouragement of his academic pursuits. These tragedies deepened Zack's commitment to continue his academic journey, to honor the family he had lost and the integrity that they had instilled within him. 
He joined an interdisciplinary Ph.D. program in ecological, earth and environmental sciences at Baylor University and moved in with his Hispanic grandmother. During this time, he connected deeply with his grandmother, who had experienced her own share of troubles and loss, and gained a deep appreciation of the values and traditions of their shared Hispanic heritage. 
However, as Zack was exploring a range of disciplines in his graduate program, he recognized a lack of representation across higher education and an absence of the Hispanic culture that he had begun to embrace. Almost no faculty or students in the graduate programs looked like him or shared a similar background. He struggled to find identity in his chosen career pathway. 
That changed after he received his Ph.D. and moved to Washington, D.C., for an AAAS - The American Association for the Advancement of Science fellowship in the Energy and Natural Resources Committee of the U.S. Senate. Distant from his friends and relatives, Zack built a network within the Hispanic community in the nation's capital, volunteering for educational outreach initiatives and advising for Great Minds in STEM and Hispanics In Energy. 
After his fellowship, he continued to build these relationships through community science initiatives American Geophysical Union (AGU) and promoting equity in science and technology fields and through career services and educational programming with SHPE. 
Following a year working as an AAAS Science and Technology Policy Fellow in NIST's Office of Advanced Manufacturing, Zack is now a public servant working with the NIST-headquartered Manufacturing USA network. In advanced manufacturing, he sees a chance to coordinate at all levels (government, industry and academia) and increase diversity, equity and inclusion efforts in workforce development. 
Through his personal and professional experiences, Zack has carved out his own identity — one that is rooted in a profound connection to family and a broad commitment to creating a scientific culture that is welcoming to those experiencing loss or isolation. 
We find Zack's story an exceptional example of strength, sense of self and compassion.