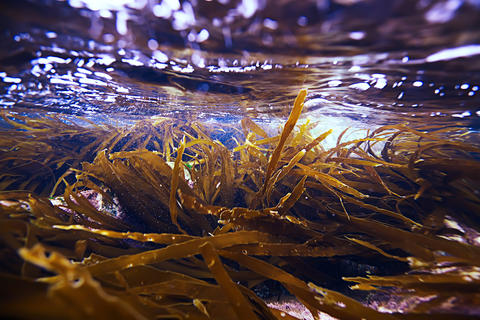 From domestic sludge to hydrogen in titanium, we have many different types of standard reference materials (SRMs) to ensure that industry, academia and government can confidently rely on their measurements. Let's talk about one with an aquatic beginning: SRM 3232 Kelp Powder. 
Kelp is a kind of seaweed that some people around the world eat. Research suggests it's a rich source of vitamins, minerals, antioxidants and other beneficial ingredients. Thus, in recent years, people have started taking it as a dietary supplement. 
SRM 3232 was born from a collaboration with the NIH Office of Dietary Supplements (ODS). The kelp itself hails from the East China Sea and had to be blended, packaged and preserved through radiation before it could sit on our shelves in the SRM warehouse. 
Then researchers characterized it for nutrients and toxic elements such as arsenic. This sounds scary, but most seaweeds contain high amounts of arsenic, and there are actually different forms of it. In this case, most of the arsenic in the SRM exists in organic forms that are practically harmless. Labs in the food industry can use the SRM to validate their methods, so that those methods can be used to accurately determine what's in their product. 
We're also looking out for a kelp SRM's use in environmental efforts and kelp farming. 
Kelp removes carbon from seawater through photosynthesis just like plants on the ground (in fact, kelp does it even better than land plants). Also, farmed kelp is an industrial commodity that is used as food ingredients, animal feed and fertilizer. 
All of this means that kelp can play an important role in environmental conservation efforts such as removing carbon dioxide from the atmosphere, cleaning up the environment, and improving access to healthy foods. Because of these benefits, kelp farming is growing on both the Pacific and Atlantic coasts in the U.S.