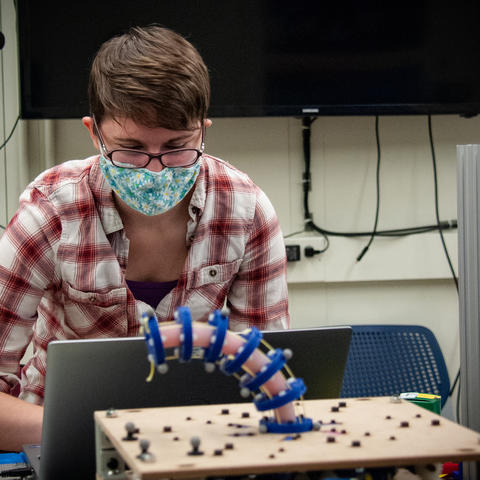 Through squishy and flexible materials and systems of cords and cables, robots can pull off some of the remarkable body movements that animals like octopuses, eels and snakes can make. These machines, called soft robots, are not like the other bots you might see on a factory floor. They can twist and bend into numerous positions to handle parts with complex shapes, setting them apart from their harder, more traditional robot counterparts. And due to their softer nature, they're also less likely to accidentally injure humans in the line of duty. 
Because this type of technology is so new, there's still no standard approach manufacturers can use to figure out how well these robots will perform on the factory floor. To fill that gap, mechanical engineer Jennifer Case built a robot of her own at NIST to help her devise different tasks for performance testing.
This particular tentacle-inspired soft robot, flexible along its length, can be manipulated into numerous poses thanks to its rubbery composition and a control system of Jennifer's design. A system of gears below causes the cables running along the outside of the arm to either extend or contract, driving the arm into the desired position. 
How well can one soft robot smooth down a rough, curved surface? 
Could a robot arm snake itself into narrow spaces for inspection? With standard tests, manufacturers and researchers could answer questions like these and make the most of soft robotics. That's just what Jennifer aims to help us do.