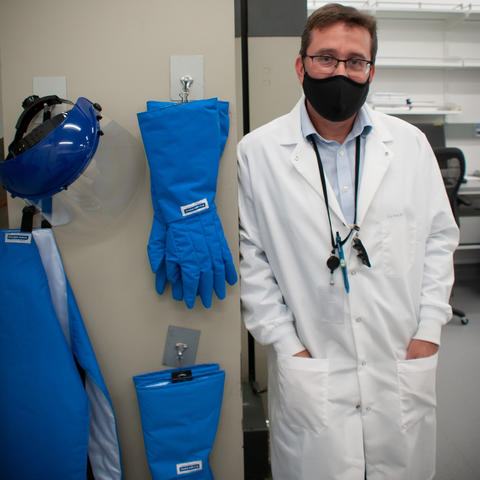 Jeffrey Herrera is one of NIST's health physicists, ensuring our ability to safely use radioactive materials for research and supporting radiation safety compliance. He started working with us in June 2020, but his interest in science started long ago.
At 10 years old, Jeffrey moved from New York City back to his birthplace in Puerto Rico. Experiencing his heritage brought along multiple sources of exposure to science:
— Not knowing Spanish at the time, Jeffrey sought out the only English-language television station available: PBS. He consumed science-based shows and grew up watching American astronomer Carl Sagan. A malfunctioning television and a natural curiosity for how things worked gave Jeffrey a chance to disassemble and explore the inner workings of electronics.
— Jeffrey's uncle in Puerto Rico wrote for a science magazine and often shared fascinating stories (shrimp artificial insemination in Thailand, for example).
— During day trips around the island, Jeffrey often observed Puerto Rico's now-damaged Arecibo Observatory radio telescope, perched atop a mountain and pointed to the stars.
Jeffrey continued his exposure to the sciences into adulthood, earning a bachelor's degree in chemical engineering at Florida International University and simultaneously gaining experience as a chemist and chemical engineer at a small research lab.
From there, he began a succession of different jobs up and down the East Coast.
He served as a resident inspector for the Nuclear Regulatory Commission (NRC) at nuclear sites including Three Mile Island near Harrisburg, Pennsylvania; Turkey Point Nuclear Generating Station in Homestead, Florida; and Oyster Creek Nuclear Generating Station in New Jersey (one of the oldest nuclear plant in the U.S., now shut down). He then worked for a commercial nuclear power plant in Miami before returning to federal service for the NRC as a headquarters operation officer, receiving emergency calls from nuclear sites.
Fast forward to today. Jeffrey manages a security program that keeps us in compliance with regulations for radioactive material use, ensuring we can maintain the licensing we need in order to conduct science research. That means inspecting processes, programs and records, particularly for the Radiation Physics Building currently undergoing renovation.
Construction and renovation means new challenges, such as moving irradiator instruments that can weigh more than 4,536 kilograms (approximately 10,000 pounds).
Fortunately, we have someone with science built into his hardware on the job.